Dell bundles free fresh air with PC
No anti-virus protection included in price - unless you're Spanish
Hot on the heels of Dell's tempting Windows XP offer, giving customers the chance to avoid Vista for a mere £44k, we're delighted to announce that not having anti-virus protection will cost you absolutely nothing.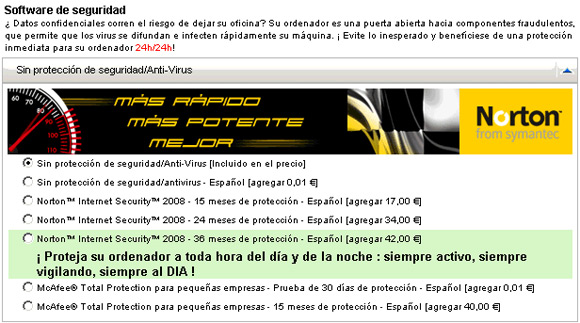 Yup, Dell has rather generously decided to include a complete lack of protection in the price - unless you want your free nothing in Spanish, in which case it'll cost you an extra €0.01.
Our informant Simon Lynch said he's decided to take up this splendid offer, and has stumped the one eurocent "to see what comes in the box". Time will tell, although Simon should consider himself lucky he's not ordering from HP, in which case he'd probably receive a really big box containing 16 smaller boxes, each marked: "There is nothing in this box." ®
Sponsored: Application managers: What's keeping you up at night?