Free from Philips, iRex launches A4 e-book reader
Electronic paper gives up bookish profile
Philips spin-off iRex has gone up a size to produce an A4 version of its e-book reader, this one aimed at the document-reading business type, rather than the classic-consuming bookworm.
The Iliad is already one of the most expensive e-book readers, packing Wi-Fi, support for various removable memory cards and an open OS onto which has been ported everything from a web browser to a word processor. The new version, the DR1000, will come in at £399 and support a Wacom-provided touchscreen costing another 70 quid, branded the DR1000S. However, it loses the Wi-Fi connectivity of the existing model.
Those wanting to use an e-book to browse the internet will have to wait until the launch of the DR1000W, which will feature Wi-Fi and Bluetooth, but the price of that model isn't settled yet.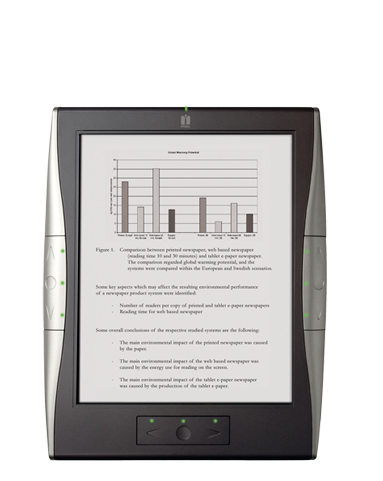 iRex' DR1000: not for the bookworm?
The most interesting thing about the new device is the decision to support a full-sized A4 screen, at a decent resolution of 1024 x 1280 and 160dpi.
This is the same approach adopted by Plastic Logic, which has been demonstrating its elegant A4 reader prototype clearly targeted at businesspeople who have documentation and memos to read, and are less price-sensitive than consumers, not to mention less nostalgic about the feel of paper.
The ability to annotate documents offered by the Iliad has been a compelling feature for many buyers. The device supports e-books in a wide variety of formats, but like most readers the size is half way between a real book and the A4 size most useful for reading Ofcom's latest magnum opus.
Hopefully, this trend will see a clear differentiation between an electronic book reader - small enough to fit in a jacket pocket - and the electronic document reader - large enough to show a PDF in all its glory. After all, printing out a book into A4 pages is hardly conducive to bedtime reading, even if there aren't staples to worry about.
Sony PRS-505 Reader review
Sponsored: Minds Mastering Machines - Call for papers now open