Dick Smith pr0n mobe heads for eBay
Complete with preloaded smut
The mobile phone at the centre of the Dick Smith Electronics preloaded porn scandal will on Monday hit eBay complete with the snaps that reduced a sickened Cairns woman to a state of shock.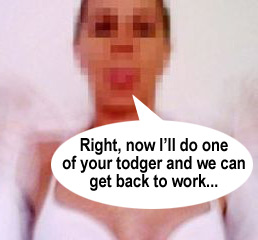 For those of you not up to speed on the whole sorry affair, the university student was sold a display phone because it was the last one in stock, and later discovered store staff had been making good use of the device to capture images of "a woman naked from the waist down lying on a bed performing a sex act, a man holding his penis and consecutive shots of the woman in her bra and pulling her pants down".
Cue outrage, internal investigations, demands for compensation, and so forth.
Well, it appears Dick Smith has not yet whipped out his bulging wallet, because the shaken customer has now told the Cairns Post she'll flog the smutmobe on the world's fave tat bazaar under the listing "The original Dick Smith scandal mobile phone".
She said: "We don't want it, and apparently Dick Smith doesn't want it, so we're open to all offers and it will be on eBay from Monday. Reserve will be set at $200, which is what we paid for this second-hand phone that we thought was new. It'll come in its original box with charger, dishonoured contract and 49 dodgy photos including those of the Dick Smith staff member, which some people might find entertaining."
Dick Smith Electronics spokesman Benedict Brook said the sale would "hinder the company's ability to investigate the matter", while his employer insisted it had "interviewed all its staff at the store involved as it tries to hunt down the culprit that has caused it national embarrassment".
The student remains unimpressed by the company's handling of the matter. She grumped: "We haven't heard a single thing from anyone at Dick Smith, not so much as an apology or offer of a refund or even where they're at in the investigation. We're deeply disappointed in the way the thing has been handled and all we can do is to advise people to think twice about where they buy their mobile phones." ®
Sponsored: Are DLP and DTP still an issue?