Tiny tots trial touchscreen tech
Chalk out, fingertips in
Durham University researchers have received £1.5m in funding for a project that aims to replace classroom desks with interactive tables.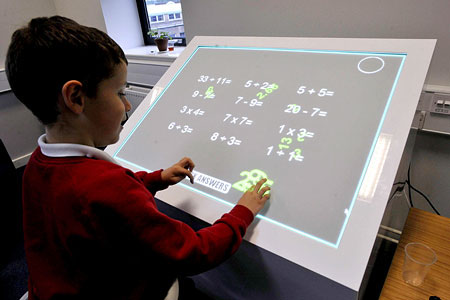 A child shows off his maths skills on the interactive 'SynergyNet' table.
Image courtesy of Metro
The researchers, together with manufacturers and education groups, are designing a software solution called SynergyNet that lets schools swap wooden classroom desks for touch sensitive interactive tables, akin to Microsoft's Surface.
The group's already tested the system in one unnamed UK school, where children performed tasks - either individually or as a group – whilst in front of an interactive table.
For example, teachers could ask the kids to split a restaurant bill by using their fingertips to divide up the coins they see on interactive table. Teachers could also display one child's work on all the interactive tables in the classroom.
Although little's been revealed about technology used, it's known that SynergyNet is based on a commercial-grade games engine and features both video support and a full physics engine.
According to a report by website Science Daily, the hardware and software combo also uses vision systems that can see infrared light, allowing it to recognise both single and multiple touches.
Dr Liz Burd, Director of Active Learning in Computing at Durham University, said: "Our vision is that every desk in school in 10 years time will be interactive". She even drew parallels between SynergyNet and the interactive surfaces used on board the USS Enterprise in Star Trek: The Next Generation.
Further SynergyNet trials will be rolled out to primary and secondary schools over the next few years.
Sponsored: Minds Mastering Machines - Call for papers now open