'Very quiet' Jaguar prototype points to hybrid drive?
The strange case of the Jag that didn't roar
'Leccy Tech Is Jaguar developing an electric car, or a hybrid? It seems that way, if claims that a new XK has been seen speeding around Germany's Nürburgring - but not heard, apparently.
While the car was spotted racing around the world-famous track, it was claimed to make barely a peep while doing so, according to website NextAutos, having been told by the photographer who snapped the vehicle's progress.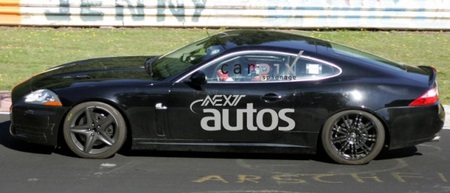 Jaguar's 'very quiet' XK
Image courtesy NextAutos
Said the snapper: "One other strange thing, this car was very quiet. We can normally hear all the Jag prototypes roar when out on the loose, especially on the Nürburgring track, but not this one."
How quiet was "very quiet"? Enough noise to indicate a hybrid, or even less, suggesting an electric model?
NextAutos is sceptical that it's a hybrid but admits the other options seem unlikely too. One to watch, we think...
Sponsored: Minds Mastering Machines - Call for papers now open