VMware sets off another storage bomb
We'll do storage management in ESX please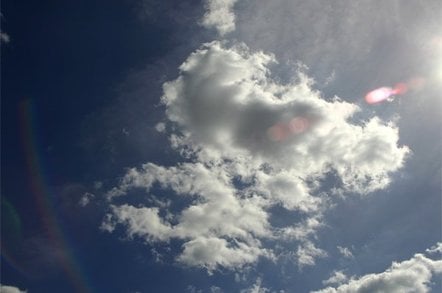 VMware asserted its prime place at the front of the storage management line yesterday when it announced vStorage API set along with its virtual data centre operating system (VDC-OS).
It is banking on these announcements at the opening of its VMworld conference yesterday putting it to the fore in becoming the location for management of storage resources in ESX environments.
Currently a VMware ESX administrator can provision and manage virtual machines (VMs) from within VMware's Virtual Centre management function but has to use separate interfaces - one or more per storage vendor - to provision and manage storage for the VMs. The intent is that storage vendors will use vStorage APIs such that a VMware ESX administrator can, directly or via automation, provision storage to VMs and protect by snapshot, replication and backup the data they use. Virtual storage appliances can be built that execute storage management code from within a VM running in a virtualized server, much as LeftHand Networks' San/iQ iSCSI SAN software product already does.
The vStorage API set represents an interface to be used between VDC-OS and storage products and includes:
vStorage APIs for Site Recovery Manager (SRM) provide integration between VMware SRM and array-based replication, enabling customers to define a custom recovery process and automate the VM restart after a disaster. No worries about correctly coordinating virtual environment failover with storage replication failover.
vStorage APIs for Consolidated Backup helps to automate virtual machine backups using standard backup software - hopefully.
vStorage APIs for multi-pathing will provide the ability to integrate load-balancing capabilities provided by VMware partners' multi-pathing software with their virtual environment.
vStorage APIs for storage management interfaces enable integrated management of storage hardware platforms and the virtual environment through management tools from VMware and storage partners. There should be no need for possibly complex coordination and manual processes to manage storage within a VMware environment.
There are also vStorage technologies:
vStorage Thin Provisioning improves VM storage allocation efficiency by consuming physical storage only as needed.
vStorage Linked Clone technology eliminates the duplicate storage of VM data transparently to the VM.
It all sounds pretty thorough and impressive and raises the bar yet again for VMware competitors Citrix, Microsoft, Red Hat, Sun and Virtual Iron.
Raghu Raghuram, VMware's VP for products and solutions, put it in a nutshell in his release quote: "vStorage in combination with products from our storage partners automates handoffs between the VMware platform and the storage infrastructure, simplifies storage operations, and maximizes efficient use of customers' storage infrastructure."
Storage vendors wanting their products to sell into customers adopting VMware have no choice but to play nice. They will be encouraged by knowing that EMC will be working very hard to vStorage-ise its products and by VMware's VMware Ready program to certify their products. Many are already over or passing this hurdle: BMC Software, CA, EMC, HP Software, IBM Tivoli, NetIQ, nworks, Quest Software, Symantec, and Tripwire are delivering or qualifying VMware Ready management products.
In particular EMC has these capabilities:
It supports virtual (thin) provisioning across its storage portfolio and is working with the vStorage APIs so that provisioning and utilization information for EMC storage is directly accessible from within the VirtualCenter interface.
EMC has a Virtual Storage Appliance for customers with Avamar Virtual Edition. This source-based deduplication technology enables a reduction of backup data within and across virtual machines before it traverses the network or virtual infrastructure to be stored.
The Celerra Simulator VM presents iSCSI and NFS and CFS storage, local writeable snapshots and remote replication. It works with SRM, and itself can be can be used to host NFS and iSCSI storage resources for a virtual infrastructure.
EMC is also working on the vStorage multi-pathing API. There's obviously much more to do.
So we start round 2 of the 'I work better with VMware than you' storage vendor competition, focusing on vStorage. The other hypervisor vendors will be gnashing their teeth as VMware gets first mover advantages here. They know that storage vendors won't want to write to multiple hypervisor APIs and will only support the main ones.
It will be interesting to see how storage and system management products like Tivoli and OpenView respond to this. They won't want to cede control but will want to sell into VMware environments. ®
Sponsored: Minds Mastering Machines - Call for papers now open