Tandberg's RDX blockbuster
Major success on its hands
OEMs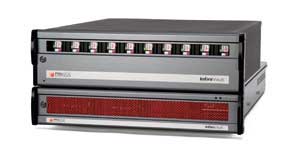 ProStor InfiniVault multi-cartridge product.
Buggle says that both Tandberg and Imation have manufacturing rights to RDX, but Tandberg has won all the OEM deals so far. The speculation is that Imation, primarily a tape and optical disk media manufacturer, has no experience as an OEM drive manufacturer, whereas Tandberg has, using the same Chinese contract manufacturing facilities that it uses for its tape drives and automation products. (Imation wasn't able to comment in time for this article.)
Tandberg makes the drives and docks for Dell, Fujitsu, Fujitsu Siemens Computers, NEC and, only recently, HP. The 90,000 units sold to date is the total reached before HP has started its selling efforts. The outstanding OEM possibilities are Acer, Apple, IBM, Lenovo and Sun.
IBM was a reseller of Quantum's GoVault competing removable cartridge drive and dock but that product shares just 10 per cent of the removable drive market with Imation's in-house Odyssey product, according to IDC, with ProStor having the rest. Buggle speculates that Quantum has simply not focused on GoVault, being directed towards enterprise sales, not small business ones. It's no surprise to learn that IBM withdrew its GoVault product at the beginning of the year. We may imagine that Tandberg reps are talking to IBM, Sun and the other OEM candidates. Their message will be that the entry-level tape market with a simple, uncomplicated backup schedule involving 10 or fewer tapes is migrating to removable disk.
Why? Disk is faster to restore than tape, simpler and more certain to restore than tape, offers continuous data protection (CDP) and bare metal recovery which tape does not, and has the removability of tape to offer a disaster recovery capability. It's also affordable - RDX drives and media cost, ProStor says, less than half a similar capacity DAT drive and tape - and much simpler to manage. Yosemite CEO George Symons says: "The customers will figure it out."
IDC thinks the removable disk drive cartridge market will be worth $98m this year, $178m next year and on up to $515m in 2012.
With RDX having 90 per cent of that and Tandberg having, let's say, 90 per cent of RDX sales, then its RDX business this year will be worth almost $80mi - not at all bad for a business unit that started its volume shipments in January, 2007. The outlook for Tandberg, assuming percentages stay the same, is 2010 RDX revenues of $144.2m and 2012 revenues of $417m.
That will help transform its business, weakened by near-bankruptcy at the end of 2007. Already the acquired Exabyte VXA tape technology is receiving little investment and is effectively mature. Its RDX that's getting the lion's share of Tandberg's R&D.
Tandberg has a 7,000 - 9,000 monthly run rate for RDX docks and has shipped 250,000 cartridges with the average being 3.5 cartridges per dock. Buggle says its RDX volumes are growing at double digit levels each quarter.
Given the numbers we have from Tandberg and IDC we could play around with a spreadsheet model and predict 250,000 units sold by Q3'09 and half a million reached by Q3 2010. But these extrapolations require growth rate assumptions and, as the old sales training gag goes, never 'assume' because it makes an 'ass' out of 'u' and 'me.'
Sponsored: Minds Mastering Machines - Call for papers now open