Scientists study near-death sensations
Just put Leonard Cohen on shuffle
Researchers on the AWARE (AWAreness during REsuscitation) near-death experiences study want to include more UK centres in the project, in addition to boosting the number of European and US bases.
The University of Southampton has already been conducting research into this phenomenon for over 18 months at selected hospitals around the UK. The international team of physicians and scientists is focusing on clinical death, consciousness and the human brain.
Dr Sam Parnia, an expert in the field involving consciousness during clinical death, explains that contrary to popular perception, death is not a "specific moment".
"It is a process that begins when the heart stops beating, the lungs stop working and the brain ceases functioning – a medical condition termed cardiac arrest, which from a biological viewpoint is synonymous with clinical death.
"During a cardiac arrest, all three criteria of death are present. There then follows a period of time, which may last from a few seconds to an hour or more, in which emergency medical efforts may succeed in restarting the heart and reversing the dying process. What people experience during this period of cardiac arrest provides a unique window of understanding into what we are all likely to experience during the dying process."
Near-death experiences, it is claimed, can often take the form of a bright, white light at the end of a tunnel, or flashback sensation of memories.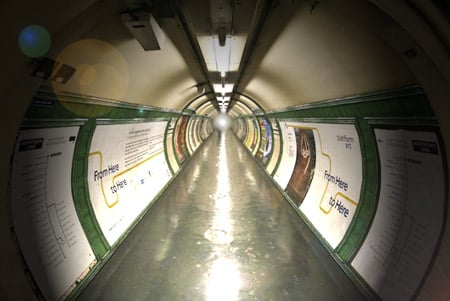 Journalist's impression of the brightly-lit-tunnel near-death sensation
Dr Raymond Moody coined the term "near-death experience" in his 1975 book, Life After Life. Many credit Moody's work with bringing the concept of the near-death experience to the public's attention, but reports of such experiences have occurred throughout history. Plato's Republic, written in 360 BCE, contains the tale of a soldier named Er who had a near-death experience after being wounded in battle. Er described his soul leaving his body, being judged along with other souls and seeing heaven. ®
Sponsored: RAID: End of an era?