RIM Blackberry Bold 9000
Smart looks and a feature-full package
The music player is rather good, though there's none of that dedicated music button malarkey you get with music-centric phones like Sony Ericsson's Walkman W980.
With the Bold it's all controlled on-screen using the track ball, though there are automatic shuffle, repeat and replay options as well as the ability to create playlists. It goes surprisingly loud too, though an on-screen warning pops up to tell you that you might damage your hearing. But, unlike the iPod, at least it has the good grace to leave the decision to us.
The loudspeaker sounds surprisingly full - or are we just getting a bit too used to listening to music on tinny mobile phone speakers these days? Either way, it's certainly got more bass than most phone speakers. The supplied headphones aren't bad either, though they lack a bit in dynamic range at either end of the scale, which leaves the music sounding a bit closed in.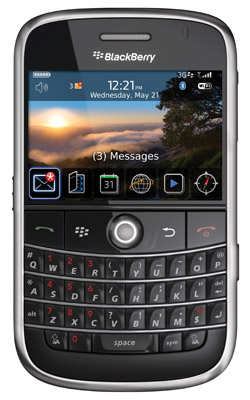 Complete connectivity: 3.6Mb/s HSDPA 3G and Wi-Fi
Thankfully, you can add your own headphones thanks to the 3.5mm socket, or using Bluetooth - the Bold supports playback over A2DP wireless stereo.
As hinted earlier with the photo geotagging feature, there's GPS on board backed up by BlackBerry Maps. It's not bad, but suffers from the inevitable comparison with Google Maps. However, you can always add the Google tool, or others such as TomTom.
BlackBerry Maps will get you out of a tight spot when you're on foot, but we found it could be frustratingly slow on occasion while driving. In the car you can keep the phone charged up - outside it, battery life wasn't great and we generally found ourselves needing a recharge on the second day of use, though keeping the Bluetooth turned off helped.
Verdict
The BlackBerry Bold is a beautiful combination of understated elegance and top-notch practicality, though with a price to match its classy looks. It's still ahead in practical terms of business pretenders like the iPhone and the HTC Pro, and even though camera and GPS aren't of the very best, its excellent Qwerty keyboard even puts Nokia's powerful N71 in the shade.

RIM Blackberry Bold 9000
Smart looks and a feature-full package means it beats many of its Qwerty-packing rivals thumbs down.
Price:
Contract: from free, handset only: £590 RRP