RIM Blackberry Bold 9000
Smart looks and a feature-full package
The camera might only have a maximum of two-megapixel resolution, and it's clear that photography isn't a main selling point of the Bold, but neither is it bad enough to put you off.
As we mentioned, there's a dedicated shutter button on the side and access is surprisingly quick compared to some better-specced snappers – around two seconds by our stopwatch, which is pretty nippy for a phone, and makes it a very useful tool for quick pics.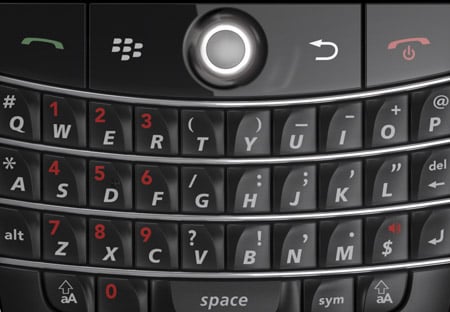 Certainly stylish: black, chrome and splashes of red for the keyboard
There are no on-screen menus, however, and you'll need to exit the viewfinder to choose your settings. Pictures were of a reasonable quality at the maximum 1600 x 1200 resolution setting, with fair colour balance and the kind of picture sharpness you'd expect for this pixel level - which isn't meant as a criticism. Flash light comes courtesy of an LED, but as usual with these things, it's only of use when you're really close to your subject.
You also have the option of geotagging your pics. There are a few options for post-pic editing, but they tend to be of the serious 'rotate', 'zoom' and 'view actual size' varieties rather than the fun kind where you can add hilarious moustaches or frames, which seems in keeping with the whole BlackBerry business vibe.
There are also quick options for sending freshly snapped pictures as email or an MMS, by Bluetooth, and uploading directly to Facebook - there's an on-board Facebook application - which will be handy for some.
Sponsored: Minds Mastering Machines - Call for papers now open