Gemalto glues DVD onto a SIM
Green revolution in the making?
Gemalto has started embedding a tiny DVD into the plastic card holding a new SIM chip, enabling Italy's Wind service to bundle 50MB of connection software and manuals in the same envelope as the SIM.
It's not the first time a CD, or DVD, has been squeezed to credit-card size, but being one of the world's largest SIM vendors Gemalto has decided to stick a SIM on the side and called the bundle a "Smart Video Card", and the company reckons that makes the whole thing green - making use of a chunk of plastic that is normally discarded.
Who'd have thought that providing "...interactive promotion of Operator's new services and products", as Gemalto promises is possible with the card, could be made environmentally sound?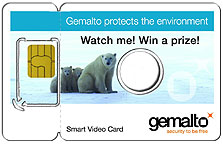 Three years ago, Gemalto would have claimed that such a technology was redundant. Back in November 2005 the future of storage was high-capacity SIMs, and Gemalto announced it would be shipping a 128MB SIM with France Telecom. Unfortunately the lack of standard interface, and suitable content to fill 128MB, killed the project, which Orange now refers to as a "technical trial".
Since then the SIM industry has adopted a standard for high-speed interfacing, but few companies seem interested in communicating with the SIM at high speed, leaving the industry will little else to innovate with.
At 3GSM last year, the SIM companies were largely reduced to showing innovative packaging solutions, and gluing a DVD to the side of a SIM is another gimmick dressed up as a revolution. ®
Sponsored: Minds Mastering Machines - Call for papers now open