Register Hardware Netbooks specs chart updated
After publishing our Netbooks & Mini-laptops Buyer's Guide, we received a number of suggestions and requests about our Specs Table. We took them on board, and have now posted an updated version.
The new table now includes size and weight listings for the Small, Cheap Computers originally included in the table. We also took the opportunity to add DSGi's new Advent 4213, a rebadged version of ECS' G10IL HSDPA-enabled netbook.
Speaking of HSDPA, we've also included a column to indicate which SCCs have this cellular connectivity out of the box. Watch out for future updates - we'll be marking which machines gain this technology as manufacturers like Acer and Asus introduce support for it.
The latest version of the table can be viewed on the last page of Register Hardware's Netbooks and Mini-laptops Buyer's Guide or by clicking on the image below: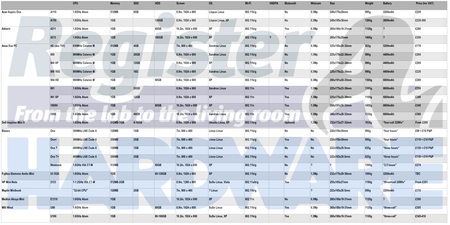 COMMENTS
excellent!
A column for HSDPA, you have my gratitude!
Maybe, with your help, I can find smaller and lighter replacement for my Toshi M300. Yes, it does not have builtin HSDPA, but it does have a PC Card slot and I have a card; still, builtin HSDPA would be probably better as I do not enjoy playing seek'n'hide with the drivers (or buying new card for different slot).