Sapphire 4850 Toxic graphics card
Solving the regular Radeon's heat problems
The Zalman cooler uses a copper heatsink against the GPU with two heatpipes to feed the heat to the cooler and its 75mm fan. Although it doesn't look especially chunky, the Zalman is fairly tall and makes the Toxic a dual-slot design, but on the plus side the cooler is very effective. It drops the operating temperature from 80-odd Celsius to 40°C. but the downside is that the fan runs at a fixed speed and is relatively noisy. That makes the Toxic cooler something of a mixed blessing as it is noisier than the standard HD 4850 during normal Windows duties but quieter when you're playing a game.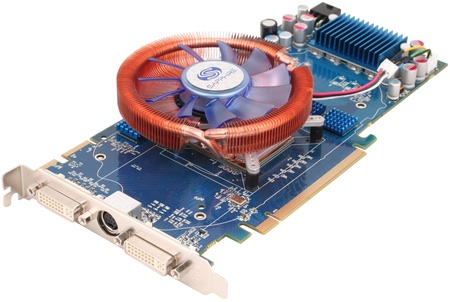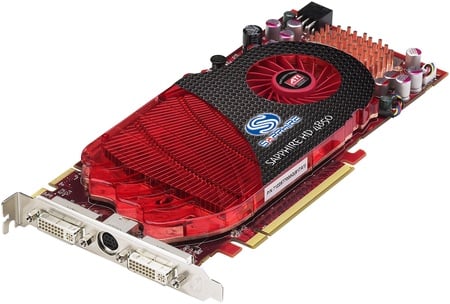 Sapphire's 4850 Toxic (top) and its regular 4850
The problem is that you appreciate peace and quiet when you're answering emails, shopping at Amazon or writing a review, but it becomes much less of an issue when you're playing Crysis or Oblivion.
There's some good news in store as the enhanced cooling offered by the Zalman package has allowed Sapphire to raise the clock speeds from 625MHz/2000MHz to 675MHz/2200MHz. This equates to an extra 11 per cent performance compared to a regular HD 4850, which halves the performance differential between the 4850 and 4870. That gives a pleasing symmetry as the price of the Toxic falls plumb between a basic HD 4850 and an HD 4870 but it also presents Sapphire, which sells all three types of board, with something of a problem.
Anyone looking for maximum value for money should buy an HD 4850, while avid gamers will go for the faster HD 4870 and that means the market for the Toxic is punters whose prime concern is the temperature of their graphics chip. And we're not sure if that's a significant market.
Incidentally, our testing coincided with the release of Catalyst 8.8 and you'll see from our figures that this gives a significant advantage in 3DMark Vantage and Crysis compared to the Catalyst 8.7 drivers.
Verdict
The Zalman GPU cooler on the HD 4850 Toxic keeps the graphics chip icy cool but it raises the noise levels noticeably and also lifts the price uncomfortably close to the HD 4870.
Sponsored: Minds Mastering Machines - Call for papers now open

Sapphire 4850 Toxic graphics card
We love the Radeon HD 4850 but it runs scary hot. Sapphire has the answer, sort of...