Sony PRS-505 Reader e-book
More popular than the Celestial Home Care Omnibus, better selling than 53 More Things to do in Zero Gravity
Music played by the Reader doesn't sound at all bad, and you can read a book and listen to music at the same time. We found listening to Beethoven's Op. 131 string quartet while reading Conrad's Heart of Darkness at 41,000 ft on a Boeing 777 a most improving experience.
So long as you don't mind your pictures coming out in shades of grey, the Reader also supports static images in JPEG, GIF, PNG and BMP formats.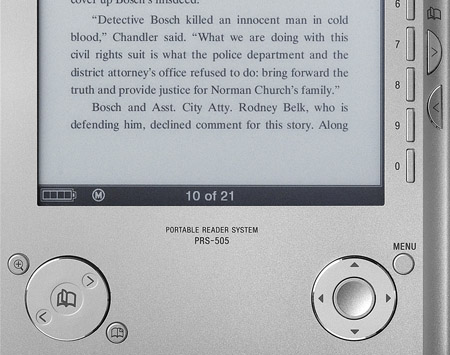 More controls than you can... well... throw a book at
At £199 and in the absence of anything to directly compare it with, the Reader is probably best described as reasonable value for money. Initial shipments of the Reader come with a CD with 100 out-of-copyright classics, including Beowulf – dust down those Ray Winstone accents - Thomas Paine's Common Sense and various works by Dickens, Poe, Tolstoy and the rest of the guys in the band.
Checking the small print, we noticed that the disc is will only come with Readers "while stocks last". Bearing in mind the cost of making a CD these days we can't see why Sony simply can't continue to stick the disc in every Reader box they ship from now until doomsday, but consider yourself warned. Of course, to a large extent the Reader's success will depend on the availability and cost of content.
At the time of going to press, there are nearly 6000 eBooks available from Sony's bookselling partner, Waterstones, of varying quality and price. But you can also get literally stacks of free out-of-copyright books – including the majority of the ones on the CD - from sites such as Feedbooks, which is where we snagged George Orwell's 1984 and HG Wells' War of the Worlds.
The short of it is, the more you like your classics, the more you will get out of the Reader and the less you will have to pay for the privilege.
Verdict
So is this the biggest thing to hit the written word since some Egyptian decided to stop trying to hack the weekly shopping list into a block of granite and invent papyrus? Probably not, but while not perfect it is a nicely presented and reasonably usable device, and the ability to stuff a couple of hundred novels into the same physical space as one thin paperback is self recommending, especially for regular travellers. After only a week with ours, we are going to miss it when it goes back.
Sponsored: Minds Mastering Machines - Call for papers now open

Sony PRS-505 Reader e-book
Grumbling Luddites aside, most people shown a Reader will want one, and quite understandably because it's rather good.