Sony PRS-505 Reader e-book
More popular than the Celestial Home Care Omnibus, better selling than 53 More Things to do in Zero Gravity
When a page is 'turned' the Reader's display refreshes or changes with reasonable speed, though the transition 'flash' from black-on-grey to grey-on-black and back again as it does so makes it seem slower than it is.
Did we say reasonable speed? Well, for moving from one page to the next, yes. But for flipping back from say page 235 to page 45 because you forgot what one character said, or to flip back and forth to any maps you have forgotten to bookmark - vital if The Lord of the Rings ever comes out as an eBook - it's really just a little slow and cumbersome.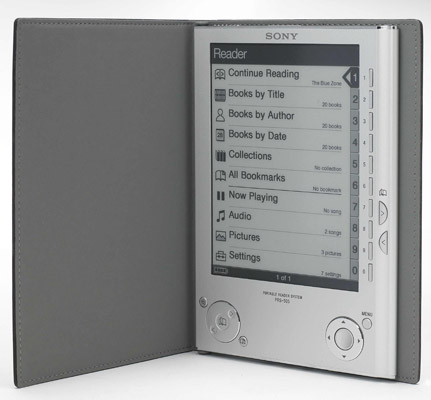 Expanding the built-in 192MB of memory is easy
On the plus side, the Reader remembers where you are in any book you have opened, so to get back to the same place just 'open' the book, hit the 'continue reading' button and bingo.
A curious feature of the Reader is that even though its knows the day and date to access said data, you need to navigate away from the page you are reading and all the way back to the main menu and then access the Settings tab to find out this information. Common sense should surely have dictated putting the day and date in the black status bar at the bottom of the page where there is ample space.
Because the screen draws no power when not in transition, the Reader's battery life is pretty impressive 7000 "page turns", according to Sony. As ther's no real way to test this that doesn't involve you reading this review three months hence, we'll restrict ourselves to saying that after a week of heavy use, and playing a good few music files, the battery is still showing a 75 per cent charge.
The Reader supports a pretty broad array of e-book files, including EPUB eBook and BBeB Book – with and without DRM – as well as PDF, MS Word and .txt files.
The Reader will also happily play back MP3 and AAC files, though it lacks the whit to store albums and tracks in any sort of order other than pure alphabetical-by-track-title. It renders album art quite nicely though, albeit in black and white.
Sponsored: Minds Mastering Machines - Call for papers now open