Sony PRS-505 Reader e-book
More popular than the Celestial Home Care Omnibus, better selling than 53 More Things to do in Zero Gravity
Memory expansion is, however, very well catered for with both SDHC and MemoryStick Duo slots in the top of the player. Shove an 8GB card in either and you could load up more literature than could be easily read in the average lifetim: more than 1700 copies of War and Peace, for example.
The external memory cards integrated seamlessly with the Reader's on-board storage, the system taking files from all three locations and presenting them as a unified whole.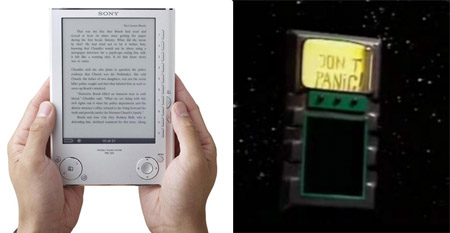 The concept of electronic books has been kicking around for a while
Once loaded, the Reader can sort books by author, title and date loaded, though in the last view it regarded books in fact loaded four days previously as loaded "today". The author view indexes by first name, so anything by the Bard ends up under 'W' for 'William' rather than 'S' for 'Shakespeare'. This may have more to do with file tagging than the Reader itself but it's nevertheless a little annoying. Still, at least it doesn't file books starting with 'The' under 'T', and for that we should be grateful.
The Reader's display is a 6in portrait, eight-level greyscale "electronic paper" item from E Ink with a resolution of 170 pixels per inch. What that means in everyday use is that pages are rendered with great clarity and definition as full black ink against a very pale grey background.
In good light, the Reader's screen is actually slighter easier on the eye than reading a traditional book and benefits from three available text sizes – small, medium, large – the smallest being more or less the same as you'd find in any standard-format paperback.
In poor artificial light, we sometimes wished that there was some sort of contrast control though it could be argued we shouldn't have been trying to read in those conditions to begin with. The screen can be moved from portrait to landscape though we aren't wholly sure why or when anyone would want to do so - this is not a display for picture books.
While the screen is essentially matte in finish, it does have a tendency to reflect strong light sources, especially tightly focused reading lamps. Altering the angle of the light or the reader usually gets around this, though, and it was not a major issue.
Sponsored: Minds Mastering Machines - Call for papers now open