Sony PRS-505 Reader e-book
More popular than the Celestial Home Care Omnibus, better selling than 53 More Things to do in Zero Gravity
To the right of the screen there are ten buttons that correspond to tabs on the screen and allow you to reach the main menus by which you access content on the Reader.
To the right of them are the buttons you use to 'turn' the pages forward and back. Another, circular control in the left hand corner does the exact same thing and is flanked by buttons to increase the text size and bookmark the page you are on. Finally, below the right-hand side of the screen is another circular control for general navigation, equipped with a central action button and a smaller circular menu/back key.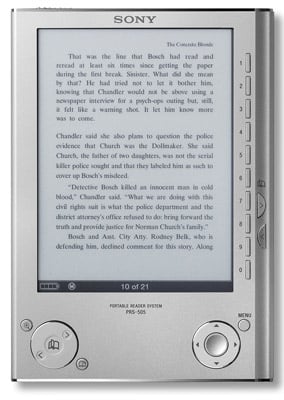 We think that a touch screen UI would be a more elegant solution
If you have been keeping up you will by now have figured out you can turn pages using no less than three different controls, though oddly the main navigation key only lets you turn a page forward if you have already accessed it using one of the other page turn controls.
It all works well enough, but we couldn't help but feel that a touch-screen UI would be a more elegant solution, assuming of course it was technically feasible.
The lack of any sort of keyboard also rules out a search facility. Not an issue if you only have a few hundred books on your Reader though it may become one if you have a few thousand. It also raises issues of navigation around reference books – flipping pages all the way to an index, then heading back to the relevant entries you want to read could, we suspect, get a little taxing after a while.
Managing content on the Reader requires the installation of Sony's eBook Library software – think Sonic Stage without the music. This happens to be a Windows-only application but luckily for Mac and Linux users the Reader shows up as a mass-storage device so you can drop files – at least ones without any sort of DRM protection – directly into the Reader's Media folder.
The device itself comes with 192MB of storage, which Sony say is good for around 160 books. Clearly this depends on the length of the book, as all 1984 pages of David Copperfield come in at 2.9MB, though to be fair 66 major Dickens' novels isn't bad on a device that's smaller than a paperback copy of A Christmas Carol.
Sponsored: Minds Mastering Machines - Call for papers now open