Revealed: the 50in TV screen goggles
TV on the go, literally
It's time to chuck out your telly, stereo and sunglasses, because quirky Japanese retailer Thanko has launched a pair of specs that combine every form of electronic entertainment used by modern humans.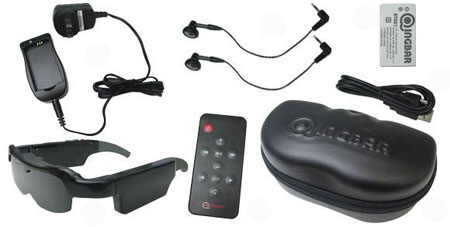 Thanko's entertainment specs
The glasses support a range of video formats, including MP4. Videos can be stored on Micro SD cards, so there are no messy cables to get in the way, with footage projected onto a virtual 50in screen 2m in front of your eyes.
Games consoles can be wired into the specs too, so if you're playing PlayStation on a rubbish 22in CRT, then Thanko's glasses are a good way of getting a 50in gaming screen without the expense.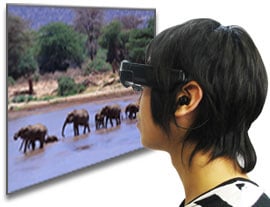 "I just didn't see that car coming"
Well, sort of. The display resolution of the specs is a mere 320 x 240. It just appears to be the same size as a 2m-distant 50in TV.
Much like Oakley's Split Thumper specs, the sunglasses support a range of audio formats, including MP3 - allowing you to walk around the streets with music pumping directly into your ears from the sunglasses.
Thanko's specs may not sport the most stylish of designs, but run off an internal rechargeable battery pack and have four pre-set audio modes, including rock and bass.
Unfortunately, the glasses are presently only available in Japan.
Sponsored: Minds Mastering Machines - Call for papers now open