Intel X-25M solid-state drive
Stunningly Special SSD?
To date our experiences with SSD have been limited to the 32GB Crucial drive that we used as a reference point in our review of the Western Digital VelociRaptor hard drive. The Crucial drive has been cut in price from £320 to £270 but it's still a horribly expensive way to buy 32GB of storage, and it suffers from so-so write speeds.
We were unimpressed by the Crucial SSD and fervently hoped that Intel would restore our faith with the X25-M.
The casing of the X25-M is held together with four screws and it only takes a few seconds to reveal the innards of the drive, which has ten NAND chips on each side of the board. This ties in with the ten-channel architecture of which Intel boasts in its spec sheet. There's also a 16MB Samsung cache chip of the type found in regular hard drives, and a controller chip with PC29AS21AA F635981.1 etched on the surface.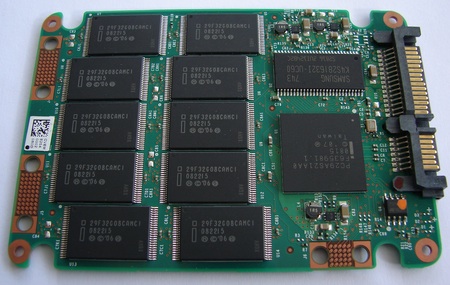 T'other side of the circuit board: five more Flash chips
Intel states that its SSDs use "advanced wear levelling algorithms" to avoid hammering the same transistors repeatedly as that will eventually kill them. So the controller and its firmware is a key component, and only time will tell how successful it is.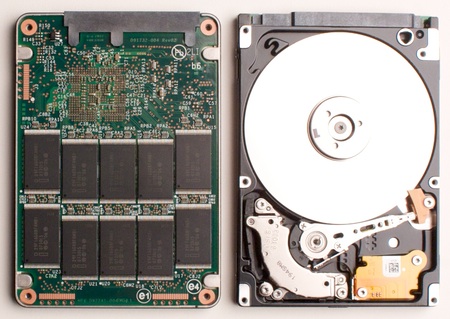 HDD and SDD
The X25-M is installed like a regular 3Gb/s SATA hard drive with Native Command Queuing (NCQ) and has a capacity of 74.5GB once it has been formatted with NTFS. We ran the X25-M on the same Skulltrail system that we used for the VelociRaptor but were unable to use the two drives together as WD had reclaimed its sample.
Sponsored: Minds Mastering Machines - Call for papers now open