HP designs handbag laptop
Clutch-sized and pretty
Catwalks aren't somewhere you'd usually expect a laptop launch. But Hewlett-Packard's paired itself with a clothes designer and stitched together a range of femme-friendly laptops.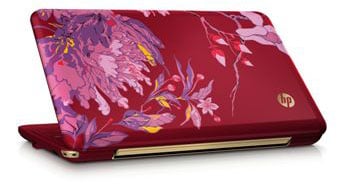 HP's designer clutch laptop: will it go with your dress?
The "digital clutch notebook" is about the size of a clutch handbag – they're those long and thin bags the missus puts under her arm on a swanky night out, you blokes. The laptop's front surface is covered with a "gleaming red and bursting with pink and purple peony flowers" design.
The machine's "Enter" key is also emblazoned with the Chinese symbol for double happiness. An embroidered sleeve is thrown in too, to help protect the PC's designer surface.
Unfortunately, HP hasn't disclosed the laptop's technical qualities yet. However, it's fair to assume the compact PC shares characteristics with the likes of the 2133 MiniNote.
It's worth noting that making laptops attractive on the outside isn't a new idea. Earlier this week, Sony launched the Vaio CS11 series, each sporting a gurly range of body colours, while Urban Retro will quite happily give your laptop's outer lid a makeover.
Sponsored: Minds Mastering Machines - Call for papers now open