Microsoft moves to improve mouse movement
BlueTrack tech for boy racer mice
If you must use your PC mouse on a granite kitchen work surface or around a bath's edge, then Microsoft's new mouse tracking technology lets you do just that.
Its BlueTrack is designed to let mouse lovers work on pretty much any surface they come across, including living rooms carpets. Although tarmac may be out of the question.
BlueTrack mice shine out a what MS scientifically calls a "large, blue beam" from their base that, working in conjunction with a Microsoft-designed image sensor and proprietary pixel processing technology, helps to generate a high-contrast picture of the area the mouse is sliding across.
The software giant claimed this creates a scanning area that's more than four times as large as the average laser beam used in existing mice. The result: BlueTrack mice can operate on a range of difficult surfaces with "exceptional tracking accuracy".
Microsoft has already implemented the technology into two new mice: the Explorer Mouse and the Explorer Mini Mouse.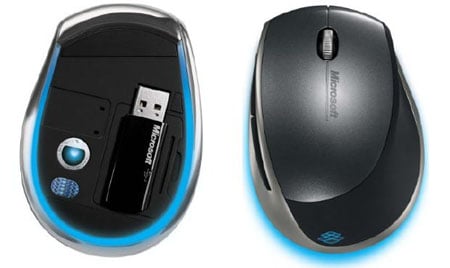 Microsoft's Explorer mice: ready to run across your carpet
The Explorer Mouse is described as being "full-size", while the Explorer Mini Mouse is, well, smaller. Both have a chrome trim and blue lighting around the bottom, but which looks too much like a boy racer car with neon under-lighting for our liking.
Nonetheless, the duo work over 2.4GHz wireless and communicate with a wireless dongle from up to 30ft away. The Explorer Mouse has an in-built battery status indicator and comes with a small charging base. The Explorer Mini Mouse runs off two AA batteries.
Microsoft's Explorer Mouse and Explorer Mini Mouse will be available at the end of October, priced at £70 ($123/€87) and £50 ($88/€62), respectively.
Sponsored: Minds Mastering Machines - Call for papers now open