As with all MP3 player sound quality tests, what you really have to ask yourself is will the majority of likely purchasers be unhappy with what they are hearing? Even in the Mozaic's case the answer is, probably not. While we prefer the sound generated by the likes of the X-Fi and Sansa Fuze or iPod Nano, the Mozaic is far from unacceptable.
The Mozaic shares two minor problems with the X-Fi. Firstly, if left on pause for a while it shuts down fully rather than hibernating. Secondly, the speaker keeps coming on whenever you unplug the earphones, making the menu option to turn it off pointless.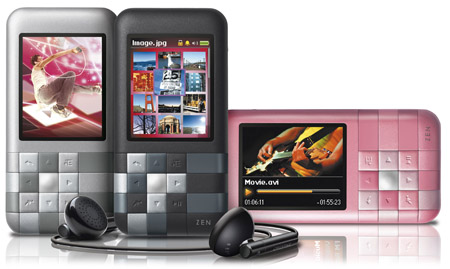 Four flavours are available: 2, 4, 8 and 16GB
Creative claims the player delivers 32 hours of audio playback from a full charge. For once, the manufacturer's numbers were nearly spot on – we got just shy of 31 hours from our 4GB player.
The Mozaic also does pretty well in the value-for-money stakes, starting at £50 for the 2GB version, rising to £120 for the 16GB device. That's ten quid less than a 3G iPod Nano with half the storage space will set you back.
Verdict
The Mozaic is nothing to get too excited about, but it is very sturdy, small, light, easy to use and demonstrated excellent battery life. It's pretty good value too. If the sound quality was a little better and it showed up as an MSC device on Linux and Mac boxes, we'd have marked it higher. Notwithstanding that, it is still Creative's most convincing product of late, by some margin.

Creative Zen Mozaic MP3 player
It's tough, capacious, affordable, has a superb control interface and is pleasant enough to listen to.
COMMENTS
U-G-L-Y, creative ain't got no alibi
It looks like the bastard love child of a mobile phone and a 1970's bathroom tile set.
nil-point
libmtp
Linux can connect to mtp devices just fine through libmtp, tho its a lot easier if one uses a frontend for it such as amarok or gnomad2
@ Alun
Doesn't Gnomad2 interface with this on Linux? It works just fine for my Zen V Plus - maybe it will also work with the X-Fi and Mozaic.