As with Creative's X-Fi, the Mozaic is an MTP-only device. While this won't be a problem for the majority of purchasers, we are having difficulty working out quite why Creative dislike Mac and Linux fans so much. To be fair, you can in fact set up a part of the Mozaic's storage as a removable disk, but only up to 1.5GB. This does show up as a mass-storage device on Mac and Linux boxes, but the player can't access any of the files copied over to this space.
Moving data from one place to another was also an issue with the X-Fi – it won't let you move music or video files from an SD card into the player's memory - so we're beginning to suspect that this is a fundamental issue with Creative's OS. If it is, the company needs to get it fixed, and fast.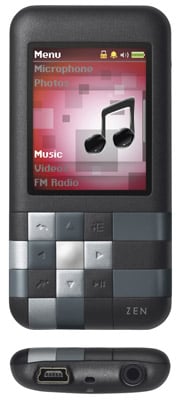 With a built in microphone, it can double as a voice recorder
Having loaded up the player, we were a little disappointed to find that Creative's generosity with its earphones hasn't carried over the from X-Fi. The in-ear phones bundled with the X-Fi are superb, but the regular ear buds bundled with the Mozaic are frankly rather ordinary. As we still had the X-Fi and its funky 'phones on our desk we auditioned the Mozaic using both pairs of bundled Creative 'phones and our trusty Griffins.
Sound-wise, the Mosaic does a decent job but no more than that. Shorn of the X-Fi's "Crystalizer" sound-enhancement software, the Mosaic makes do with a bass boost and the usual range of EQ settings, but even with all that guff turned off the sound was more muddy and constrained than on the X-Fi with all its sound modifiers turned off. This was particularly apparent when we listed to Seth Lakeman's Poor Man's Heaven, an album that really does need a feeling of air and space about it to sound its best.
Moving on to John Elliot-Gardiner's ground-breaking 1986 period instruments recording of Mozart's Requiem, the Mozaic's lack of clarity was again an issue. Swapping back and forth between the Mozaic and a Sansa Fuze, the lack of higher frequency definition around the strings was very apparent.
COMMENTS
U-G-L-Y, creative ain't got no alibi
It looks like the bastard love child of a mobile phone and a 1970's bathroom tile set.
nil-point
libmtp
Linux can connect to mtp devices just fine through libmtp, tho its a lot easier if one uses a frontend for it such as amarok or gnomad2
@ Alun
Doesn't Gnomad2 interface with this on Linux? It works just fine for my Zen V Plus - maybe it will also work with the X-Fi and Mozaic.