Creative Zen Mozaic MP3 player
Tough, capacious and affordable
The keypad is classic Zen in layout, with navigation and volume controls at the compass points of the grid, and menu/back, options, a user assigned shortcut key and play/pause/record buttons at the corners. In the middle is the select/OK button. The buttons are slightly domed and have a pleasant click action making navigation extremely sure and easy. We'll go further: this may be the easiest compact MP3 player to navigate about that we have come across. Creative could do worse than adopt this as its new standard, it's that good.
For anyone worried about how the lack of a scrollwheel impacts on the ability to swiftly move up and down long track lists, don't be. Holding down the up/down navigation keys ramps up the scroll speed nicely but it never gets so fast that you end up zipping up and down lists like a ferret on speed trapped in a drainpipe.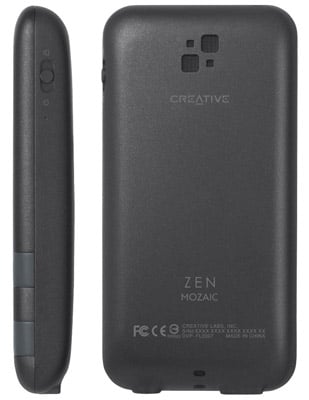 The rounded contours mean it doesn't get snagged on anything
By offsetting the keypad to the left, Creative has made the player fantastically easy to use one-handed if it's held in the right hand. But it's equally made the player harder to use when held in the left hand. Unless you have the thumbs of a baboon that is.
File support is pretty basic: WMA, MP3, WAV, Audible 4 for audio; Motion JPEG for video; and JPEG for still images. It's about time Creative followed SanDisk's lead and added at least Flac to that list.
Video file support actually isn't worth worrying about because playback isn't the screen's strong point. Being an OLED unit, the screen is bright and power efficient so works fine for reading text, but has a dismal refresh rate and flickers badly when transcoded video is played. Static images also look pretty grim too, so it's just as well album artwork isn't supported. Still, this is all a little beside the point, for basic navigation the screen is certainly a lot better than the simple LCD jobs you find on the likes of the SanDisk Sansa Clip and Zen Stone Plus.
Sponsored: Minds Mastering Machines - Call for papers now open