Intel launches greener, faster Xeons
Fab four from 45nm fab process
You will get more and greener bangs for your buck with new quad-core Xeons from Intel.
Intel is using a new process and building the chips without fire-retardent halogen which can pollute the environment around chips fabs. The new Xeon 5400 processors use transistors made from a Hafnium-based, high-k metal gate formula.
The older silicon dioxide gates, running between chip substrates and just a few atoms thick, leaked current causing heat gain and additional power to overcome the losses. The new gates are more than 100 times better in voltage leak terms, which makes the chip run cooler and need less power.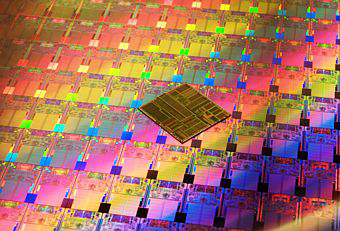 High-k gate Penryn 45nm processors.
Intel's 45nm Penryn processors used the high-k gate technology first.
There are three chips in the 5400 line: X5492 running on 150 watts at 3.4GHz; X5470 needing 120 watts and cycling at 3.5GHz; and the X5430 needing just 50 watts to cycle at 2.66GHz. Intel is also bringing out a new dual-core X5270 with an 80 watt power draw and 3.5GHz cycle rate.
The X5470 has recorded a record Spec _rate 2006 score of 150.
Intel reckons workstation, high-performance, blade and mainstream servers will use these chips, made by Asus, Dell, Fujitsu, Fujitsu-Siemens, Gigabyte, HP, IBM, Microstar, NEC, Quanta, Rackable Systems, Sun Microsystems, Supermicro, Tyan and Verari Systems. The new 5400 series processors are available now, while the X5270 will be available this fall.
You'll have to pay quite a few bucks to get the bangs these little beasties deliver though. The high-end X5492 is $1493 and the X5430, the cheapest one, is $562.
AMD hopes to move from its 65nm to a 45nm process before the end of the year, and will have a 125-45watt Deneb chip line out in the first half of next year. No word on whether it will junk halogens from its processes, though. ®
Sponsored: Minds Mastering Machines - Call for papers now open