Logitech V550 Nano wireless laptop mouse
The first mouse you can clip to your computer
Review Logitech's latest cordless mobile mouse offers a neat solution to the problem of where you put the thing when it's not being used: this one you clip onto your laptop.
The concept: wherever you take your computer, you'll always have your mouse with you. Like this: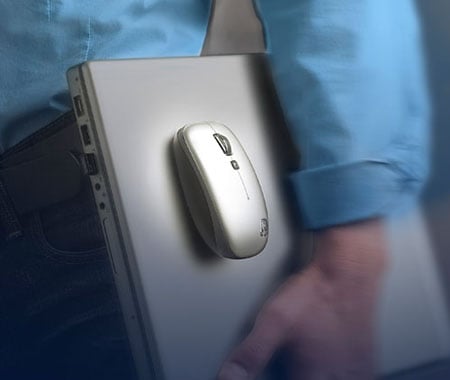 Logitech's Nano V550: Gentlemen, attach your mice.
How so? The Nano V550 comes with a pair or small metal squares - one silver, one black - that fix to your notebook. There's a self-adhesive pad on one side, and a metal nipple on the other. The nipple clips securely into a latched slot on the base of the mouse.
And here's a neat design touch: docking the mouse this way causes the nipple to push against a small switch that breaks the circuit between the V550's two AA batteries and the other internals. So while you mouse is stowed, it's not using power.
If you plan to stash the rodent separately from the computer, there's a second switch, this one finger friendly, you can use to turn the mouse off and preserve the battery life.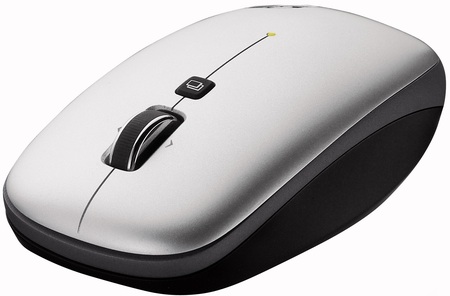 Smooth
COMMENTS
HUH?
Aside from the idiotic "design" of gluing a nipple to your machine, why not make the thing Bluetooth?
Bluetooth is built-in and there's no need to waste a precious USB port for the dopey RF transmitter.
No sale.
The internal trackballs of years gone by were okay, but they stuck out and got gummed up. The trackpad is a better solution for a laptop, thought I only use mine when necessary. I actually carry a small Wacom tablet with my MBP. It's flat, fits in my bag better. Besides, working with the pressure-sensitive stylus is SO much better than using a clunky old mouse.
As for trackballs, I swear by them! Mice are clunky, slow and RSI inducing. Trackballs are FAST and perfect for multiple monitor setups, especially.
Will Logitech make its "nipple" a standard connector to attach things to laptops
Like webcams and the like.
They could sell a stick on device to attach with. Maybe called a nipple clamp.
@ jubtastic1
£50/$60
You need to remember that this mouse fits into the electronic equipment, software and entertainment exchange rate, not the publicly announced general exchange rate. This is the exchange rate that sees those paying in £s being charged much more in real terms than those paying in $s.
It's not the manufacturer's fault, of course, they have to provide all that extra support for the UK base. That English (US) to English (International) translation is very difficult for their Indian call-centre staff.
@ Bad Beaver
Quote: "I am supposed to deface the impeccable simplicity of my Powerbook with a protruding glue-on nipple that I can attach a bulging mouse to, as though the Notebook suffered from struma?"
But there is ALWAYS at least one nipple attached to each Powerbook already.
THE OWNERS!
Marketing.
Should sell like hot cakes to the BDSM crowd.
They can always bin the mouse, the adaptor and the lid mount. After all, at that price for a tool that can twist nipples off, it's a bargain.
Yes please. The PVC one with the handcuffs and pliers in the pocket.