9. Tweak Linux for SSD usage
Linux has a number of optimisations for reading and writing data from a hard drive, and these are in place even on AA1s with solid-state drives. However, you can adjust the OS to ignore these optimisations, which should lead to faster SSD performance.
Open a Terminal window and type sudo mousepad /boot/grub/grub.conf.
Once again, be very careful editing this file - mistakes can prevent Linux starting properly. So double-check your typing, make sure your data's backed up and have the USB recovery drive you made earlier to hand.
Looking through the file, you should see the line:
kernel /boot/bzImage ro root=LABEL=linpus vga=0x311 splash=silent loglevel=1 console=tty1 quiet nolapic_timer
Edit this to add elevator=noop at the end, making sure there's a space between the end of the old line and the new code.
Save the file and restart your AA1. If you've done it right, you probably won't notice anything specific, but Linux will now be better tuned for SSD usage.
10. Install Firefox 3
The AA1 comes with Firefox 2 - and a version tweaked by Acer, at that. Installing Firefox 3 should be simple, but it isn't because some of the pre-loaded version's support files are used by other apps too - removing them will break these programs.
First, get Firefox 3. Type sudo wget http://rpms.famillecollet.com/remi-release-8.rpm into a Terminal window and hit Enter. Then type sudo rpm -Uvh remi-release-8.rpm and hit Enter.
Next, type sudo mousepad /etc/yum.repos.d/remi.repo and make sure that the [remi] section has its enabled value set to 1. Make sure [remi-test] has its enabled value set to 0.
Now type sudo rpm -e --nodeps firefox to delete the old version of the browser - but leave files other apps may need intact - and then you're ready to do sudo yum install firefox.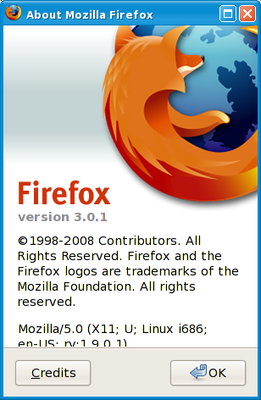 Firefox 3 on the AA1
To fix the broken apps, you need to re-download Firefox 2 and re-install just the shared code. This isn't a simple process, so we'll hand over to a couple of guys who made it easy for the rest of us: Jorge Barrera Grandon and Nacho Marin. At Jorge's Road to Elysium blog, you'll find a script you can copy and paste into a file, along with instructions on how to make the script executable. This co-operative coding is one of the things that makes using Linux such a joy.
Pop over to Jorge's site and follow his instructions - scroll down a bit, past the basic Firefox 3 installation details. We've tried them and they work as they should, as does the script itself. We have Firefox 3 running on our AA1 and RSS Reader and Acer's OneMail.
In addition to thanking Jorge and Nacho for the Firefox 3 tip, we'd also like to thank blogger Jason Perlow for the Linux SSD tweak suggestion.
Thanks also go to the many contributors to the Aspire One User for the postings that made the creation of the other tips possible.
Ten tweaks for a new Acer Aspire One
COMMENTS
Can't get Skype on AA1 desktop.
Wish I had read your 10 tweaks article first. I followed the directions from another web site. In the xml edit, I failed to remove the last two dashes at the end of the line. Only removed the exclamation point and first two dashes. Of course Skype icon was not on desktop as a result. Went back to edit the line correctly, and the line with Skype reference was completely gone. Fortunately, Skype program still runs and is still listed in the desktop menu. But, is there anyway now I can get the Skype icon in the Connect Group on my AA1 desktop?
re: Linux Fan succumbs to dark side
Your time is not that valuable. Time learning a unix OS is well spent, as you hone your Jedi skills. Money given to the Empire prolongs the tyranny of the Death Star.
Turn away from the dark side, before its too late.
Use the source for good.
Linux fan, but...
I've been a casual Linux fan for a decade and thought that SCCs would be the catalyst for Linux. For the 2 weeks that I had my AA1 (Linpus + 6 cell battery) I loved it, until I wanted to make some "simple" changes. I wish I had read this great article earlier. I just wanted FF3 and to stream music/movies from my media server. After much reading, trial & error and numerous uses of the recovery DVD, I realised my time was too valuable and I returned it for the AA1 Windows version. I even tried installing other Linux distributions but most do not support the AA1 wi-fi card or make proper use of SSD storage expansion slot :-(
Linux is great... and SCCs are a great way to learn if you have the time. Usually you pay a $100 premium for Windows, but with the price difference between Windows and Linux on SCCs being so small I had no choice but to ultimately opt for the dark side. At least my "simple" changes are now "simple".
Aside: I strongly recommend paying the extra for the 6-cell version. You get 5+ hours of constant usage.
Jolly good stuff
Except the equivalent in XP would go something like this:
Tweak A:
1. Download .exe file.
2. Double click and click OK.
3. Go to Tools...Settings.
Tweak B:
1. Right click > Properties.
2. Go to the Settings tab.
3. Tick the XYZ checkbox.
I want the OS to be as unintrusive and passive as possible. Not a hurdle that I have to jump every time I want to make a minor change. I don't want to faff with registry or .inf files. I pay good money for a relatively robust OS lets me get on with my job by installing whatever software I want. Be it freeware / OSS / paid for / other.
There might well be something very satisfying about building your own house. But you'll spend so much time learning about how to do the building, you'll have no time left for interior design.
Horses for courses. Each to their own, etc.
Coat?
Yup that's mine - I'm off to go leaf kicking.
I trust yours is the hand-me-down with elbow patches. And you'll be hand-sewing extra pockets on, amending the hem stitching, dye-ing the colour, and changing the buttons on it all by yourself, yeah? And knitting your own jumper, no doubt. It'll be summer again by the time your done.
In case you change your mind... coats aren't that expensive these days and the shops have got a sale on. Come on guys: it's fun outside.