3. Enable the Advanced Menu
Acer's AA1 desktop doesn't display all the apps and options available to you. To get them all, you need the machine's so-called Advanced Menu.
Press Alt-F2 on the keyboard. This pops up a dialogue like Windows' Run... panel. Type xterm and hit the Run... button. A Linux command line will appear in a window - type in xfce-setting-show and hit Enter.

Linpus Run... window: activated with Alt-F2
XFCE is Linpus' GUI controller, and its Settings Manager will now be displayed. Click on the Desktop icon then select the Behaviour tab. Check the 'Show Desktop on Right Click' option then close each window.
Now when you're looking at the Acer desktop, clicking the right mouse- or touchpad-button brings up a menu listing all the apps and utilities you can use. Newly installed apps will also appear here.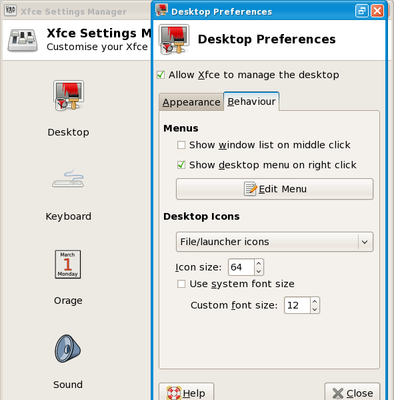 XFCE's settings window
4. Install The Gimp
The Advanced Menu contains a handy entry in the System sub-menu: Add/Remove Software. Select it then, when asked, enter the password you chose when you first started the AA1. After a moment, you'll be able to browse and search a list of programs you can download and install.
Here's a handy one: the GNU Image Manipulation Program, aka The Gimp. In the Package Manager's Search tab, type in gimp then scroll down to The Gimp's entry in the list that's displayed. Click on the check box next to it then on the Apply button.
Linpus' Package Manager - aka 'pirut'
Package Manager will seek out other files that Gimp needs in order to run - tell it when asked to install these too. When everything's downloaded and installed, quit Package Manager. You'll find Gimp in the Advanced Menu's Graphics sub-menu, ready for editing photos or any other images.
COMMENTS
Can't get Skype on AA1 desktop.
Wish I had read your 10 tweaks article first. I followed the directions from another web site. In the xml edit, I failed to remove the last two dashes at the end of the line. Only removed the exclamation point and first two dashes. Of course Skype icon was not on desktop as a result. Went back to edit the line correctly, and the line with Skype reference was completely gone. Fortunately, Skype program still runs and is still listed in the desktop menu. But, is there anyway now I can get the Skype icon in the Connect Group on my AA1 desktop?
re: Linux Fan succumbs to dark side
Your time is not that valuable. Time learning a unix OS is well spent, as you hone your Jedi skills. Money given to the Empire prolongs the tyranny of the Death Star.
Turn away from the dark side, before its too late.
Use the source for good.
Linux fan, but...
I've been a casual Linux fan for a decade and thought that SCCs would be the catalyst for Linux. For the 2 weeks that I had my AA1 (Linpus + 6 cell battery) I loved it, until I wanted to make some "simple" changes. I wish I had read this great article earlier. I just wanted FF3 and to stream music/movies from my media server. After much reading, trial & error and numerous uses of the recovery DVD, I realised my time was too valuable and I returned it for the AA1 Windows version. I even tried installing other Linux distributions but most do not support the AA1 wi-fi card or make proper use of SSD storage expansion slot :-(
Linux is great... and SCCs are a great way to learn if you have the time. Usually you pay a $100 premium for Windows, but with the price difference between Windows and Linux on SCCs being so small I had no choice but to ultimately opt for the dark side. At least my "simple" changes are now "simple".
Aside: I strongly recommend paying the extra for the 6-cell version. You get 5+ hours of constant usage.
Jolly good stuff
Except the equivalent in XP would go something like this:
Tweak A:
1. Download .exe file.
2. Double click and click OK.
3. Go to Tools...Settings.
Tweak B:
1. Right click > Properties.
2. Go to the Settings tab.
3. Tick the XYZ checkbox.
I want the OS to be as unintrusive and passive as possible. Not a hurdle that I have to jump every time I want to make a minor change. I don't want to faff with registry or .inf files. I pay good money for a relatively robust OS lets me get on with my job by installing whatever software I want. Be it freeware / OSS / paid for / other.
There might well be something very satisfying about building your own house. But you'll spend so much time learning about how to do the building, you'll have no time left for interior design.
Horses for courses. Each to their own, etc.
Coat?
Yup that's mine - I'm off to go leaf kicking.
I trust yours is the hand-me-down with elbow patches. And you'll be hand-sewing extra pockets on, amending the hem stitching, dye-ing the colour, and changing the buttons on it all by yourself, yeah? And knitting your own jumper, no doubt. It'll be summer again by the time your done.
In case you change your mind... coats aren't that expensive these days and the shops have got a sale on. Come on guys: it's fun outside.