Ten tweaks for a new Acer Aspire One
Take charge of Linpus
Acer's Aspire One is ready to go out of the box, but if you've opted for the Linux version and you're new to the OS, you may be wondering how to get started. Here are ten things to try.
Before we start, a warning. Later tips involve working with Linux configuration files, which do not take kindly to errors. Check your typing very carefully, particularly spaces and capital letters, and only proceed if you're comfortable. Back up your data, and ensure you have a recovery disk on stand-by. We've done our best to check the text below, but we won't be held responsible if your AA1 crashes and data is lost. Nothing here will damage your machine or void your warranty - at worst, you'll have to reinstall the OS using the Recovery Disc that comes with the AA1.
Please don't try this on an AA1 that has Windows XP installed.
1. Run Live Update
When you start up the AA1 for the first time, you'll be taken through a basic set-up Wizard, after which the mini laptop will restart. When it's back up and running you'll find yourself facing Acer's desktop GUI.
It's best to set up wireless networking in the Network Centre preference panel, but don't do this yet - just log in using the networking icon in the task bar. Next, click on the Preferences label then on the Live Update icon. The AA1 will present a list of updates that you should apply.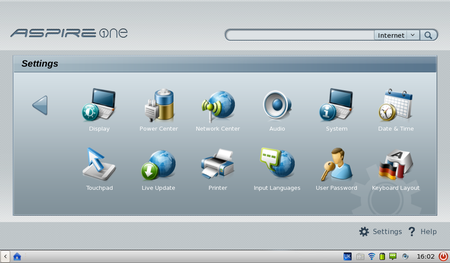 Run Live Update from the AA1's Preferences screen
When it's done, Live Centre will restart the AA1. It'll also zap your wireless details, which is why there's no point setting this up at the start. Once the AA1 is back up and running, now you can use the Network Centre wizard to set your AA1 to always log onto your WLAN.
2. Make a USB recovery disk
While Live Centre's doing its work, start up another PC with the AA1's Recovery Disk CD. This will load and run a utility allowing you to restore your AA1's Linux installation. Fine, if you have an external optical drive - if not, the utility will create a USB Recovery Drive on any USB Flash drive that's at least 2GB in size. Tweaking the AA1 can sometimes lead to unplanned consequences, so it's good to have the recovery stick handy, just in case.
If you don't have an external optical drive or a second PC to make the USB recovery drive, don't proceed past tip number five.
COMMENTS
Can't get Skype on AA1 desktop.
Wish I had read your 10 tweaks article first. I followed the directions from another web site. In the xml edit, I failed to remove the last two dashes at the end of the line. Only removed the exclamation point and first two dashes. Of course Skype icon was not on desktop as a result. Went back to edit the line correctly, and the line with Skype reference was completely gone. Fortunately, Skype program still runs and is still listed in the desktop menu. But, is there anyway now I can get the Skype icon in the Connect Group on my AA1 desktop?
re: Linux Fan succumbs to dark side
Your time is not that valuable. Time learning a unix OS is well spent, as you hone your Jedi skills. Money given to the Empire prolongs the tyranny of the Death Star.
Turn away from the dark side, before its too late.
Use the source for good.
Linux fan, but...
I've been a casual Linux fan for a decade and thought that SCCs would be the catalyst for Linux. For the 2 weeks that I had my AA1 (Linpus + 6 cell battery) I loved it, until I wanted to make some "simple" changes. I wish I had read this great article earlier. I just wanted FF3 and to stream music/movies from my media server. After much reading, trial & error and numerous uses of the recovery DVD, I realised my time was too valuable and I returned it for the AA1 Windows version. I even tried installing other Linux distributions but most do not support the AA1 wi-fi card or make proper use of SSD storage expansion slot :-(
Linux is great... and SCCs are a great way to learn if you have the time. Usually you pay a $100 premium for Windows, but with the price difference between Windows and Linux on SCCs being so small I had no choice but to ultimately opt for the dark side. At least my "simple" changes are now "simple".
Aside: I strongly recommend paying the extra for the 6-cell version. You get 5+ hours of constant usage.
Jolly good stuff
Except the equivalent in XP would go something like this:
Tweak A:
1. Download .exe file.
2. Double click and click OK.
3. Go to Tools...Settings.
Tweak B:
1. Right click > Properties.
2. Go to the Settings tab.
3. Tick the XYZ checkbox.
I want the OS to be as unintrusive and passive as possible. Not a hurdle that I have to jump every time I want to make a minor change. I don't want to faff with registry or .inf files. I pay good money for a relatively robust OS lets me get on with my job by installing whatever software I want. Be it freeware / OSS / paid for / other.
There might well be something very satisfying about building your own house. But you'll spend so much time learning about how to do the building, you'll have no time left for interior design.
Horses for courses. Each to their own, etc.
Coat?
Yup that's mine - I'm off to go leaf kicking.
I trust yours is the hand-me-down with elbow patches. And you'll be hand-sewing extra pockets on, amending the hem stitching, dye-ing the colour, and changing the buttons on it all by yourself, yeah? And knitting your own jumper, no doubt. It'll be summer again by the time your done.
In case you change your mind... coats aren't that expensive these days and the shops have got a sale on. Come on guys: it's fun outside.