Group Test: Wireless music streamers
Sends songs to your hi-fi with these four systems
Value
This may well the defining factor for many purchasers. The Sonos, in the form the new "cheaper" starter pack, still costs a pretty eye-watering £699. The Logitech is a more real-world £279. The Roku device can be picked up for around the £125 mark, and we expect the Philips player to be about the same or maybe a little less when it becomes generally available. Of course, the Roku and Philips devices lack the multi-room add-on functionality of the two more expensive devices or the remote controllers that allow you to navigate through your media from any place in the house.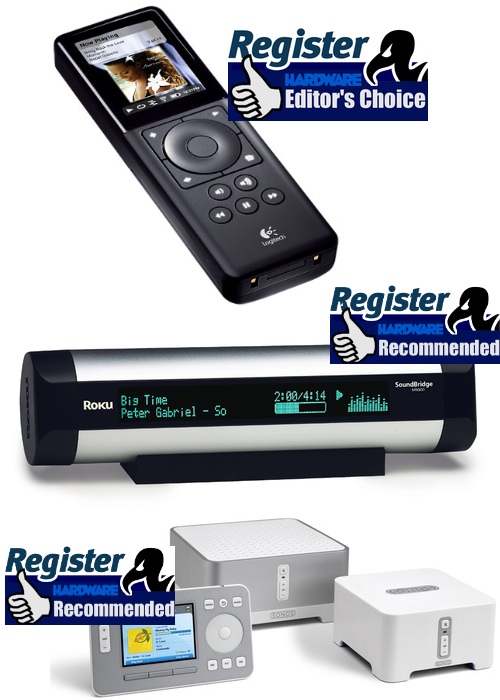 Verdict
If it was our money we'd go for the Logitech. It does all we want and does it well, all for a reasonable price and with a remote that's a joy to use - even more so when compared to the rather large and cumbersome Sonos remote. If cash is tight, and you only plan on using the device in one room, the Roku has a lot going for it especially in the looks department and the ability to get chummy with your iTunes server.
The Philips Streamium doesn't really do anything that the Roku doesn't, and of the two the Roku is the nicer looking and easier to use. The Sonos rig is fantastic, but it's expensive and we have serious doubts as to how many people want to actually going to fork out £700 for a music streamer albeit such capable one. We also can't help feeling that charging £30 for a charging cradle for the remote is taking the pee.
Sponsored: Minds Mastering Machines - Call for papers now open

Group Test: Wireless music streamers
Price:
£249 / $400. Extra remote: £199 / $300. Extra receiver: £99 / $150. RRP

Group Test: Wireless music streamers

Group Test: Wireless music streamers
Price:
£699 / $999. ZP90: £249 / $349. ZP120: £349 / $499. Controller: £279 / $399 RRP

Group Test: Wireless music streamers