Group Test: Wireless music streamers
Sends songs to your hi-fi with these four systems
As SqueezeCentre will run on the majority of Linux distros, the Logitech and Roku devices are self-recommending to the open source community.
How the server software sorts your files in only part of the story - the ability to navigate through your tracks is at least as important. Here the remote controls that show colour album artwork - the Sonos and Logitech devices - have a clear advantage. Both allow you to navigate through even the largest media libraries with ease and speed from anywhere in the house. The Sonos' iPod-style scrollwheel is particularly handy here.

The Roku's display: bright
File support
Neck and neck between the Sonos and Logitech players here with both supporting MP3, WMA, AAC, Ogg Vorbis, Flac, Apple Lossless and WAV. The Sonos also supports AIFF and Audible, while the Logitech has WMA Lossless. The Roku and Philips players restrict themselves to the basics: WMA, non-DRM AAC, Apple Lossless, WAV, MP3 and AIFF for the Roku, and MP3, WMA, non-DRM AAC and PCM on the Philips.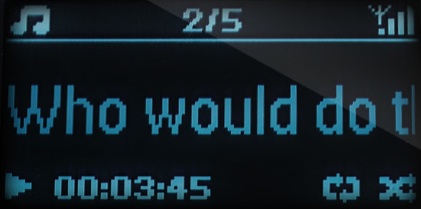 The Streamium screen: big but blocky
Sound Quality
Now let's be honest, crushing audio bores and Pipistrelle bats aside, sound quality is not a reason to buy any one of these devices in preference to the others. Fill your hard drive with 64Kb/s files, play them back through a 2.1 active speaker system you picked up in Asda for 20 quid and the results are going to sound horrible. Play decent bit rate files using a quality home cinema system or Hi-Fi and the DACs in all four devices will do just fine. Even the Roku, which makes do with pumping its audio out via a 3.5mm audio jack, proved more than competent.
Sponsored: Minds Mastering Machines - Call for papers now open