Group Test: Wireless music streamers
Sends songs to your hi-fi with these four systems
In Use
When it comes to making sense of your music library, all four systems take a slightly different tack. The Roku impressed us by being able to hook up to both the iTunes and SqueezeCentre servers on our PC as well as Windows Media Centre. Being able to run off iTunes also means that although the Roku still won't play your DRM-protected files at least it lets you know they are there. The Logitech will only run off SqueezeCentre, but as this does a very solid job of reading ID3 tags.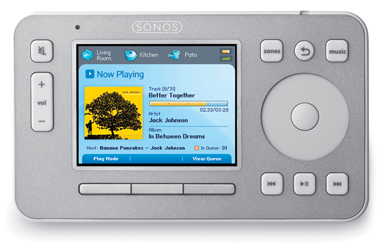 Sonos' wireless remote: cumbersome but fully featured
The Sonos server software looks directly at your music folders and does a pretty good job of translating that into a friendly form the wireless remote control can display while you're perambulating. But its ability to compile a usable catalogue from an iTunes library didn't quite match that of SqueezeCentre. Bottom line, if iTunes is your everyday music software - and for many, many folk it is - the Logitech and Roku devices do the best job.



Philips' remote, Logitech's and Roku's (left to right)
The Philips depends on good old UPnP (Universal Plug and Play) which is fine if you're using a compatible media player to organise your files or have everything laid out in folders but a bit hit and miss if you are an iTunes user, keep all your music tracks in a single, gargantuan folder, and simply add your music library to a UPnP server for the sake of streaming.
Sponsored: Minds Mastering Machines - Call for papers now open