Group Test: Wireless music streamers
Sends songs to your hi-fi with these four systems
All four devices have Ethernet ports, though the Sonos system comes with two which could come in handy if you want to add a PlayStation 3 or the like to your network. The Roku, Logitech and Sonos come with digital optical and coax, and analogue connectors. The Philips lacks an optical connector but adds a 3.5mm headphones socket. The Roku's analogue audio output actually is a 3.5mm audio port rather than the usual RCA so it doubles up as a headphones jack.

Round the back: the Roku
One major difference between the Sonos system and the others is that it relies on a bespoke wireless mesh technology rather than on good old 802.11 Wi-Fi to communicate with itself.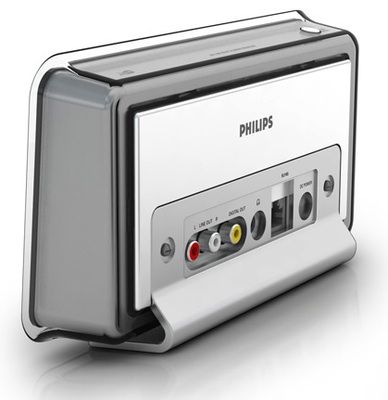 Round the back: the Philips
The short and tall of this is that if you live in a mansion the Sonos system's units can be expanded ever outward to cover a huge area. For those of us who live in three-bedroom semis and don't regularly feel the need to have Springsteen in the lounge, Mahler in the loo and Dido in the master bedroom, all at the same time, this is perhaps overkill.

Round the back: the Squeezebox Duet
More to the point, to expand your Sonos network to the far reaches of the ancestral pile you're going to need seriously deep pockets. Each new ZP90 will set you back £250, while Logitech only want 99 of your hard earned pounds for an extra Squeezebox receiver. Fair enough, the Sonos bundle will play music in two rooms out of the box, but to do the same with the Squeezebox will still only cost you exactly half as much.
Sponsored: Minds Mastering Machines - Call for papers now open