Pure Digital Evoke Flow internet radio
Pure entertainment pleasure
Once you've registered your Evoke Flow with the Pure Lounge, favourites can be set up quickly and simply. This can also be done on the Flow itself, but a computer's web browser, with its ability to show more information, makes the process considerably easier. We found the user interface of the site really simple and straightforward to use, with all the options and abilities clearly laid out on the home page.
Another useful feature is that whether an option is set up or favourites changed using either the radio or the portal, the two automatically sync with each other. The Lounge and the Flow both enable you to search by station name, genre, location, language and audio quality.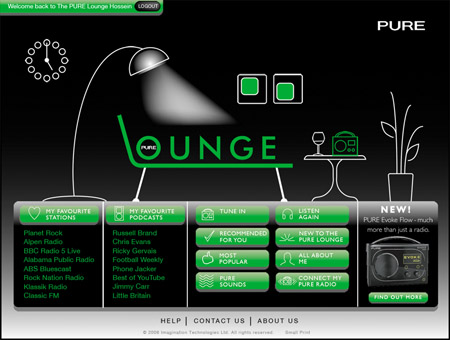 By accessing the Lounge portal, you can set individual preferences
There's a lot of poor quality content out there, so the ability to ignore this is most welcome. It's possible to add your own categories of favourites and store them as 'my podcasts', 'best rock stations' or whatever you so choose. The Lounge interface can even change its colour to suit your taste. In general, whether using the portal or the Flow to search and load content, be it radio stations or podcast subscriptions, the process is quick and reliable.
Pure also promises that its partnerships with radio stations will deliver increased services and functionality over the coming months, including more unique and premium content. In the meantime, Pure has provided some exclusive audio of its own, known as Pure Sounds. These consist of 100 sounds designed to allow the listener to set a desired mood. Options include seagulls, the human heartbeat or even a thunderstorm. Not everyone's cup of tea, but it could be useful for creating a relaxing atmosphere to work in or even drop off to sleep to.
Other online options will also be added. The ability to purchase music through the radio and the portal will be available before the end of the year as will 'tagging', whereby listeners can request more information on an artist or advert they've heard. New services like these will be made available through automatic software upgrades delivered over the Wi-Fi network.