Intel P45 desktop chipset
Makes life more difficult for overclockers
Added to that, P45 motherboards support a feature called DRAM Read Training. DDR 3 models also support DRAM Write training as DDR3 uses fly-by topology so we immediately have a new level of complication.
We've been given a stack of rules by motherboard manufacturers for P45 overclocking starting with a straightforward one for the northbridge voltage: it can be left at default value if the FSB is below 400MHz, rising to 1.3V for 400-500MHz and a maximum of 1.4V for 500MHz and above.
Then there's the CPU VTT value, which should be set higher than the northbridge voltage but no more than 1V higher.
Power Draw Results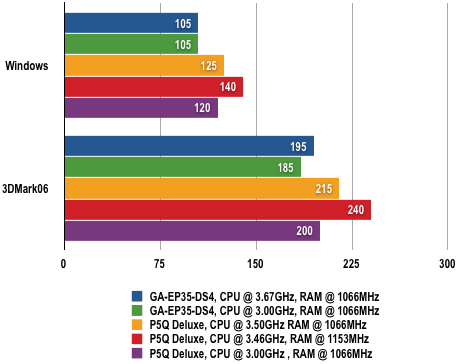 Power Draw in Watts (W)
The third area to consider is the northbridge GTL reference voltage measurement figure. With P35 you want a ratio of 0.61x-0.67x with 0.62x as an ideal, but with P45 the range is 0.37x-0.76x and 0.67x is ideal for a Penryn processor.
If you work very hard indeed at overclocking a Penryn processor on P45 you will get the same results that you can achieve in a matter of minutes on P35, which doesn't sound like much of a deal. In our experience, you'd do well to leave the manual Bios settings alone and stick to the Auto settings that have been created by the motherboard manufacturer.
It seems to us that P45 is a taste of what is to come with Nehalem/Core i7 and P55/X58 chipsets as overclocking control slips away from the avid customer back into the hands of the manufacturers.
Verdict
P45 is the end of the line for Intel chipsets that use a frontside bus and include a memory controller. Although it buffs up the few rough edges that existed with P35, the new chipset makes life more difficult for the overclocker.
Sponsored: Minds Mastering Machines - Call for papers now open

Intel P45 desktop chipset
The last of its line, the P45 adds little to the feature set of its predecessor.
Price:
P45-based mobos: £75-120 RRP