Intel P45 desktop chipset
Makes life more difficult for overclockers
The X38 chipset is a variation of P35 that allocates PCIe more efficiently to the graphics. It increases graphics support to 16 lanes of PCIe 2.0 and these are divided equally between the two slots if you're using CrossFire. That's easy enough but then we come to X48, which sounds as though it ought to be the first of the 4 series of chipsets. In fact, it's exactly the same as X38 with the addition of support for a 1600MHz frontside bus which is only used on the Core 2 Extreme QX9770. This is a bit of marketing nonsense as the Asus P5E3 Deluxe mentioned above also supports the QX9770, although it does it without official say-so from Intel. Thank heaven for Taiwanese Bios coders.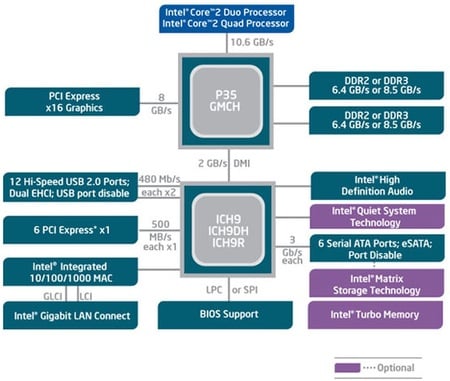 Inside Intel's old P35...
If we class the X48 as a hangover from the 3 series of chipsets then the new 4 series consists of the P45, P43, G45 and G43. At present, there are no Q40 chipsets aimed at the business market. We're concentrating on P45 here but let's take a quick look at the features of all four chipsets. They're fabricated using a 65nm process, which is a significant shrink from the 90nm used in P35, and they support the same FSB and memory speeds as the 3 series. P45 supports up to 16GB of memory where P35 tops out at 8GB, but it's hard to see how that will have much impact in the real world.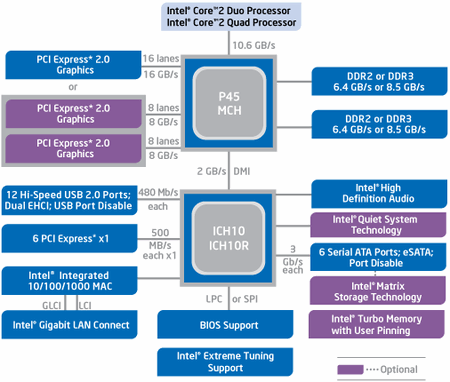 ...compared to the new P45
As ever, the P/G43 parts support lower speeds than the P/G45 chipsets, but as we've seen you need to check out the spec of the motherboard instead of treating Intel's official support as Holy Writ.
Sponsored: Minds Mastering Machines - Call for papers now open