PNY calls Ghostbusters to boost 2GB Flash drive sales
Updated In a bid to sell more cheap USB Flash drives, Memory maker PNY is to flog a special edition 2GB stick with a copy of Ghostbusters on it.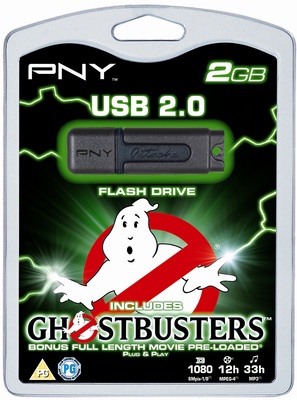 Human sacrifice, dogs and cats living together... mass hysteria!
The movie will be 25 years old next year, leaving PNY's release mis-timed to the tune of nine months if you work on from the film's 7 June 1984 US premiere, or 15 months if you consider its UK release, which took place on 7 December 1984.
PNY didn't say how much the Ghostbusters Flash drive will cost. It'll go on sale through Argos - the retailer's website has it down as £29.99. Since you can get even a big-name 2GB stick for under a tenner, we hope that's a mistake.
It's certainly a hefty premium to pay for a movie we've seen sold by supermarkets for less than a fiver, good though the flick is.
Update
We've since learned that the movie is DRM'd, and needs the USB key connected for the film to be played, even if it's copied off the stick. Crazy.
Sponsored: Minds Mastering Machines - Call for papers now open