Sony Ericsson Walkman W980 music phone
Too few non-music features
Another useful service that's becoming standard issue on Sony Ericsson phones is Google Maps. Unlike the recent W760i Walkman phone, there's no GPS receiver to give exact positioning, but the phone uses mobile network triangulation so you can get your location approximated to within a few hundred metres and view it on zoomable map or from a satellite image.
This can be very useful if you're in an unfamiliar place and need to get your bearings or find somewhere nearby. You can use a range of search and route planning facilities, with info and mapping data refreshed over the air.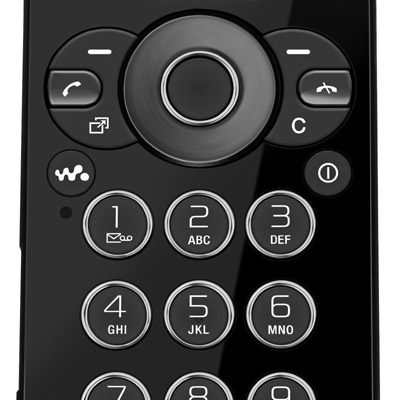 The control keys around the navpad are a little cramped
Sony Ericsson has added plenty of additional applications to the W980, some a bit of fun and others useful tools to have in your pocket. There's a Walk Mate step-counter to monitor your daily strolling using the motion sensor; Music Mate 5 music tuner/chord guide/beats app; sound recorder, world clocks; unit convertor; and the AccuWeather.com weather tracker. A motion-controlled driving game, Need for Speed ProStreet, is included among the three pre-loaded games.
While music majors on this device, audio quality for voice calls is of a consistently high standard too – we had no problems with a very good performance and reliable network call handling from the handset.
Battery staying power will depend on how much you'll be using the headline Walkman features and other gadgetry. Sony Ericsson estimates the W980 will deliver up to 16 hours of music playback - standby time is reckoned at up to 370 hours, while talktime is quoted at 4.5 hours on 3G networks or up to nine hours in GSM coverage. We found with our average use and a bit of track-playing we were charging up every couple of days.
Verdict
It lacks some top-end functionality, such as Wi-Fi and GPS, and its camera is a reasonable but ordinary shooter. Expandable memory would also have been desirable. For a non-smartphone device, though, the W980 does have a pretty decent set of features and applications. But its appeal is based on its musical abilities and its neat design: its 8GB of storage, nifty Walkman controls and the FM transmitter.
While it may not have everything you could want from a mobile, when it comes down to tune playing, the W980 delivers a classy performance.
Sponsored: Minds Mastering Machines - Call for papers now open

Sony Ericsson Walkman W980 music phone
A high-quality Walkman phone with 8GB of storage and a fine musical performance – but it's a touch light on other features.
Price:
Contract: free - £150. Pre-pay: TBC. Handset: £330 RRP