Sony pairs PS3 with Bluetooth headset
Online gaming chats are go
PlayStation 3 gaming looks set to become yet more immersive, because Sony has launched a Bluetooth headset for the console.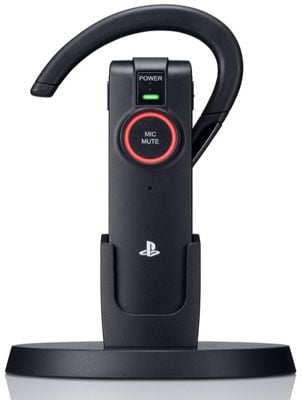 Sony's PS3 headset, with docking station
The CEJH-15002 looks like most mobile phone Bluetooth headsets, with a hook for fixing the wireless communicator around your ear. However, the PS3-branded Bluetooth 2.1+EDR device enables online gamer-to-gamer chats within a range of upcoming titles, including SOCOM: Confrontation and Resistance 2.
So you could either scream to online team-mates to "GO! GO! GO!" or just have some mundane banter while you blast aliens in a galaxy far, far away.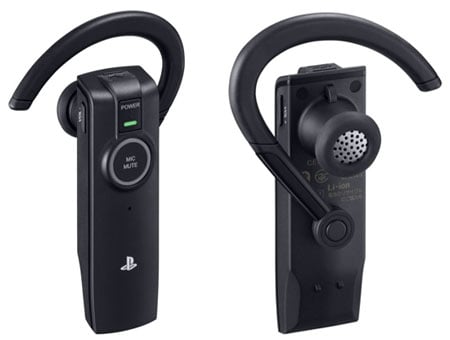 Fix it over your ear, and you're ready to play n' chat
When connected to the headset, the PS3 brings up an on-screen indicator showing the headset's connection status, speaker volume level and microphone mute status. The remaining battery life is shown too.
The PS3 headset will sit in standby for about 300 hours and has a talk time of roughly eight hours. Its maximum PS3 communication range is 10m.
Sony's CEJH-15002 PS3 Bluetooth headset goes on sale in Japan next month, for about ¥5000 (£26/€31/$49). A UK release date or price hasn't been transmitted over yet.
COMMENTS
So will my Jabra stop working?
Bluetooth headset support is not new (let alone NEWS) on PS3? I got a Jabra device with Warhawk and regularly have to put up with listening to irate parents shouting at their kids to "Quit playing Call of Duty and finish your homework", or morons telling racist/sexist/purile jokes etc!
So what's the news here?
Is it some extended profile that allows the PS3 to show the battery level in the headset? Or is it just the presence of the PS logo on the device?
New titles?
What about old ones? In GTA4 you can call your friends on the mobile phone and hear what the other gamers are saying ..