Furniture firm offers seat formed from old PS2s
Gaming goes green
Swanky suburban store Selfridges is to sell a chair made from recycled PlayStation 2 games consoles.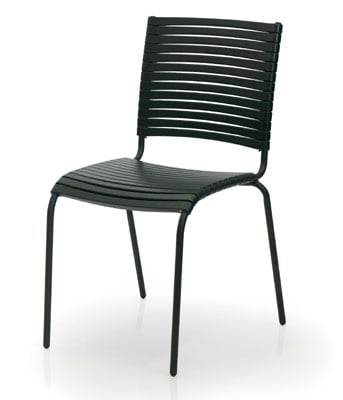 Have you seen my PS2 anywhere?
The Reee chair's back and seat are made from the plastic casings of nine PS2s, which maker Pli Design stated saves 2.4kg of "post-consumer" plastic from ending up in landfill.
Whether the firm used the old, fat PS2 or the newer, slimmer model is anyone's guess. But if you're looking for a modern way to highlight your eco-gaming credentials, then a chair made from old PS2s could be right up your alley.
The chair's legs are made from powder-coated steel and the whole thing can be disassembled - but probably not melted back into a PS2.
Pli Design's Reee chair goes on sale in Selfridges from 10 September, priced at £100 (€123/$178).
COMMENTS
£100??? for that?
surely you can get similar style chairs for much much less? I realise that saving the planet is good and all, but that must be one hell of a mark-up!
Recycling
I guess it's better than chucking them in landfill, but I'd have thought there were more eco-friendly destinations for not-quite-state-of-the-art games hardware - such as the homes of not-quite-state-of-the-art gamers. Guess they might have been broken, but I fear to the contrary.
Doh
i thought it was going to be a load of ps2's that had been glues together inta a chair shape with cushins