IBM pitches 'network security' blade server
Slimline P2P throttler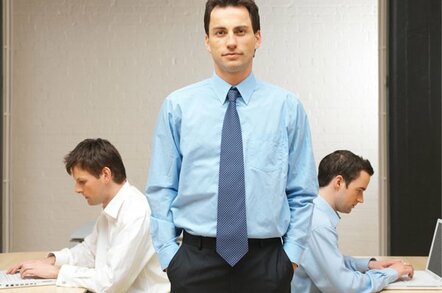 IBM is rolling out a blade server made to support deep packet inspection tools, so that service providers and other operations can better shield themselves against viruses, denial of service attacks, and, yes, throttle peer-to-peer bandwidth.
The BladeCenter PN41 was co-developed by IBM and the service management and security firm CloudShield Technologies. It runs on a specialized chip from Intel and uses CloudShield software to sniff out control network traffic.
It runs on an OS created by CloudShield, which uses a handful of apps also created by the firm for management and security.
One piece of code is DNS Defender, an app that the company claims can detect and discard malicious traffic while being able to green light valid requests for processing by a series of protocol filters. It also uses a caching feature it claims will boost DNS lookups.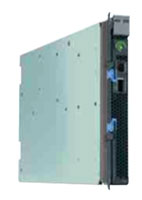 IBM BladeCenter PN41
Also available in the PN41 is CloudShield's Subscriber Services Manager, which detects and prioritizes application traffic at the subscriber level.
"Specifically, network operators can verify that their own traffic is fast and efficient while concurrently identifying and shaping peer-to-peer traffic that may be draining resources," IBM's literature states.
This will let telecoms "develop new revenue models for voice, video and data networks" and "design new pricing structures based around subscriber usage."
Of course, P2P traffic capping is a strong point of contention amongst service providers and their subscribers. These techniques - which let ease the bandwidth strain caused by massive amounts of file sharing - are presently being put through the regulatory wringer in the US and Canada.
Later on, PN41 will offer IP Transition Gateway, which translates IPv4 addresses into their IPv6 counterparts (and vice versa). That software is expected to arrive before the end of the year, according to IBM.
And here's a potentially scary one: IBM is also offering Lawful Intercept, an app that can track and record VoIP conversations for "processing and analysis" (only when approved by a judge, we're sure.) This particular software is available from GTEN, which partnered with CloudShield.
The PN41 uses an Intel IXP2805 network chip for handling packets. It has four 1 Gigabit Ethernet controllers and four 10Gb controllers. IBM says the blade uses multiple types of memory including TCAM, QDR and RDRAM — all of which is dedicated to packet processing and not expandable. The blade plugs into a BladeCenter H and HT chassis.
Pricing estimates aren't available, but the blade is expected to roll out worldwide in October. ®
Sponsored: Minds Mastering Machines - Call for papers now open