Yes! It's the upside down car!
Drive up walls and across ceilings
A car's been launched that's so cool, it'll make James Bond switch gadget providers. Because although this four-wheeler can't shoot rockets or travel underwater, in can drive upside down.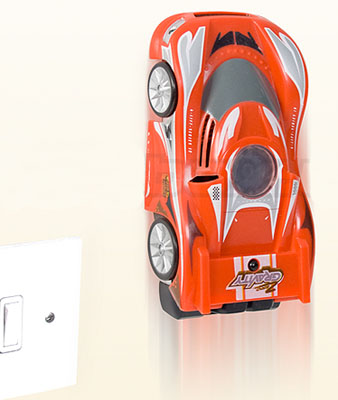 The Zero Gravity Micro R/C car can drive up walls
The Zero Gravity Micro R/C car from online retailer Firebox employs an "advanced venturi suction system" to literally drive vertically up walls, over ceilings and underneath tables. Fans create a powerful enough down-force to keep the car glued to whatever surfaces it moves across.
How well - or not - it deals with the right-angle between wall and ceiling is something Firebox neatly overlooks.

Gravity defying
Users control the 35 x 60 x 120mm car with a twin-toggle infrared transmitter. The car's powered by a rechargeable battery. Don't worry about the vehicle suddenly falling from the ceiling when the juice runs out - the headlights will flash to tell you the battery's running low.
A less power-hungry mode enables the car to be used without the fans blowing, but then the car can't drive upside down and where's the fun in that?
The Zero Gravity Micro R/C car's available now online in either red or black, and is priced at £30 (€45/$60).