Creative Zen X-Fi 16GB media player
Burdened with a fair amount of frankly pointless functionality
We have to assume this last feature is a bug that a firmware update will fix – right now our test device has a Linkin' Park album sat in the transfer folder and as far as the X-Fi is concerned it doesn't exist. OK, that's not wholly true, we can see the artwork, but that's not really the point.
Just to make things a little more odd, if you want to download media to the X-Fi over the WLAN, it asks you where it should put the file. So why can't it do the same for files imported from a memory card? At the end of the day, the best way to handle the X-Fi's SD expansion is to use the card to store your videos – it's quicker to transfer video files directly to the SD card anyway – and leave the on-board storage for your music.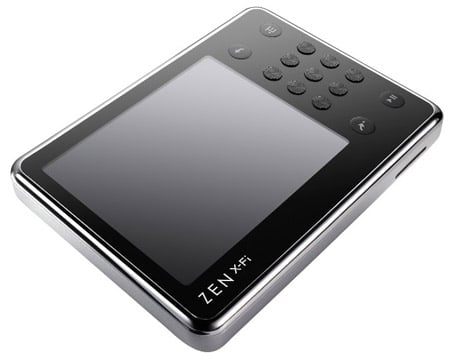 Despite the function bloat the X-Fi is still a pretty small device
Other minor niggles? Well, as soon as you unplug the headphones the speaker comes on, even if you have manually turned it off beforehand. The player has an annoying habit of switching itself off rather than going into hibernation if left unattended. It can't do two things at once: access your media server while listening to music and the music shuts down. While you can set up playlists, the procedure is Byzantine in its complexity.
Creative quotes a battery life of 25 hours of audio playback and five of video. With the WLAN off, the best we managed was 19 and 3.75, respectively. Use the wireless features constantly and you can reduce those numbers dramatically. Re-charging is through USB cable only.
The X-Fi starts at around £100 for the WLAN-less 8GB version rising to a rather dizzying £240 for the 32GB version and that's iPod Touch money, albeit for one with less storage. In between, you can get a 16GB version for £150.
Verdict
All in all, the X-Fi's a bit of a disappointment. The lack of storage integration, the odd controls and the truly hopeless text input system all combine to take shine off a decent looking and sounding little player.
It's hard to avoid the feeling that Creative have missed an open goal here by making the X-Fi so small. If it was broader and taller and came with a decent resolution 4 or 4.5in screen, we'd crawl over our dead grandmother to get one, superfluous applications notwithstanding.
Sponsored: Minds Mastering Machines - Call for papers now open

Creative Zen X-Fi 16GB media player
A decent enough MP3 player burdened with a fair amount of frankly rather pointless subsidiary functionality