Creative Zen X-Fi 16GB media player
Burdened with a fair amount of frankly pointless functionality
The WLAN allows the X-Fi to do three things most MP3 players can't. Firstly, it allows you to stream music from your Windows PC, either to listen to or download. This is a good idea and works well. Secondly, it allows you access podcasts from Creative's MediaBox, which again is a good idea and works well so long as you don't want to download and keep anything - and assuming Creative expand and update the available content. Thirdly, it allows you to chat with your chums over IM. This is a good idea, probably, but it works badly. Very badly.
To start with, you have to log in to Creative's own chat server. This in turn allows you to access your MSN and Yahoo accounts – AIM and Google Talk users are stuffed. So far, so good, if a bit ponderous. Where the idea falls flat on its face is trying to input text via the 3 x 3 keypad.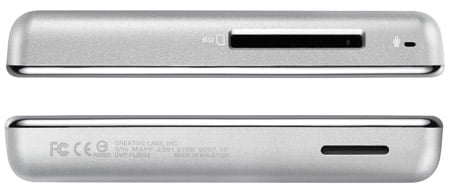 An SD card slot on top - the slot on the bottom's the speaker
You see, the 3 x 3 button array is used to navigate about a 3 x 4 virtual keyboard, the corner buttons allowing you to move from key to key diagonally. Once you have highlighted the relevant key the centre button lets you flip through the three letters, upper and lower case, and number that key represents. The problem is that navigating about the virtual on-screen keypad in this way is just a soul-destroyingly slow and clunky way of typing. Seriously, you can hack messages into rock using only a blunt soup spoon faster.
The X-Fi's SD card arrangement is another classic example of Creative hit and miss. Hit? It takes full sized SDHC cards which are a lot less hard to lose than their Mini and Micro siblings, and once plugged in you get a whole dedicated menu to manage it. Miss? Well, to start with the player's on-board and SD card storage are not on speaking terms so they don't combine seamlessly as they do on the Sansa Fuze, and bizarrely if you transfer data from the card, the X-Fi puts it into a folder that only recognises JPEG files.
Sponsored: Minds Mastering Machines - Call for papers now open