Creative Zen X-Fi 16GB media player
Burdened with a fair amount of frankly pointless functionality
Swapping to our - cheaper - Griffin TuneBuds, the X-Fi compared well to both the Sansa Fuze and Samsung P2, producing a clear and natural sound. As well as a nicely non-invasive set of EQ pre-sets and a Bass Boost setting that's best avoided, the Big Deal sound modifier on the X-Fi is the... X-Fi, which comes in two parts: the Crystalizer and the Expander.
Now lack of space and an unwillingness to bore the hell out of you all mitigates against us getting into too much detail about this first-time appearance of Creative's X-Fi technology in a mobile device, suffice to say that the Crystalizer is essentially a stereo widener which does a good job of opening up the sound-scape without making things sound too artificial, on either the "On" or "Max" settings. The Expander reinforces the lower frequencies, which often suffer from electronic stereo widening.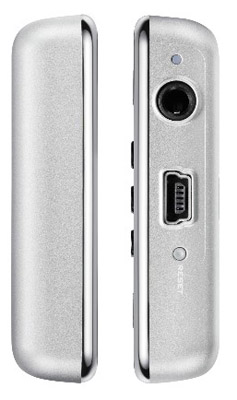 Re-charging is through the USB cable only
By way of test we listened to Kate Bush's Aerial - yup, both discs - and Sir John Barbirolli's glorious Berlin Philharmonic Mahler 9, and while the X-Fi didn't have us on our knees weeping for the beauty of it all neither did it have us wishing we were listening to another player.
Video play isn't bad either, being crisp and colourful, though the screen is rather prone to washout if viewed from much off 90°. In both video and audio playback, and irrespective of file size, the X-Fi is blessed with very a smooth and fluid fast forward/rewind facility that ramps up nicely the longer you hold the control down.
In its 16 and 32GB iterations, the X-Fi comes with Wi-Fi, albeit with pretty poor reception. It struggled to pick up a signal in the office and is the first device we've ever had a problem with there.
Sponsored: Minds Mastering Machines - Call for papers now open