Creative Zen X-Fi 16GB media player
Burdened with a fair amount of frankly pointless functionality
Above and below the 3 x 3 grid are four more buttons - again largely as per the Zen – for play/pause/record, a user-defined shortcut key, options and menu/back. Tucked away around the back of the player is the on/off/lock switch. It took us a while to work out this was actually the power switch as well as the lock switch – the coin dropped only after an fruitless five minutes trying to get the thing to spring into life. Guess we should have read the instructions.
In everyday use, the main control buttons on the X-Fi are just - but only just - big enough not to became a major pain in the posterior. So the control array is an interesting idea that works reasonably well but one unlikely to spark a new trend in MP3 player command and control.
As, of course, Sony found when it tried the notion with its Vaio music player back in 2004.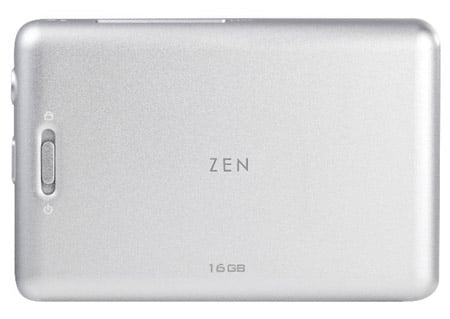 It took us a while to work out that the lock switch doubled as the power button
Continuing the external tour, the top of the player is home to the SD card slot and microphone. Around the right-hand side you will find a 3.5mm headphone jack and mini-USB port. At bottom is a narrow slot for the built in speaker.
An interesting and useful feature on the X-Fi is the fully configurable menu. If you never use a certain function, you can remove it from the menu tree. In a player with so much peripheral functionality this is a boon, as is the fact you can set the shortcut button to one nine pre-set functions including volume control.
Again, though, editing the menu isn't new - the iPod's had it for a while.
The only thing we don't like about the menu structure is that there is no easy or direct way to get back to the Now Playing... screen, this not being an option to set the shortcut key to.
Sponsored: Minds Mastering Machines - Call for papers now open