VPN security - if you want it, come and get it
Attention WiFi hotspotters: You want it
Into the Tunnel of Love
Before starting OpenVPN on your client, make sure it's connected to the internet, and make a note of its wide area network IP address by visiting WhatIsMyIP.com. The IP address should belong to whatever provider the coffee shop subscribes to.
Now double click on the OpenVPN GUI icon on the client PC and follow the same steps you took when connecting on your server. Because we created a passphrase for the client key, you'll be prompted to enter it now. You should now see a client connect window and, 30 or so seconds later, a message indicated the client has connected successfully.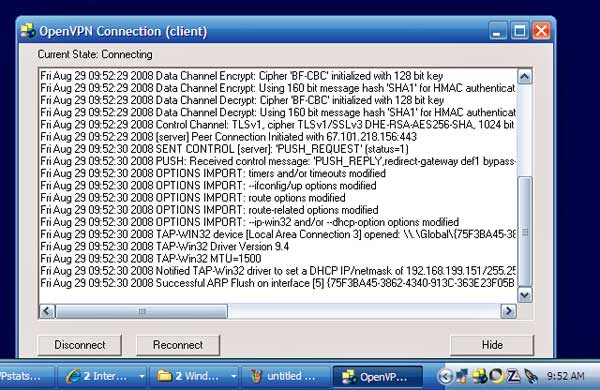 Client connecting ...

Client connected!
Tunnel of Love
If all goes according to plan, within 30 seconds, your client's IP address should change to the same one being used by your server machine. Make sure by once again checking WhatIsMyIP.com.
With the generous help of the Wall of Sheep organization camped out at this year's Black Hat security conference, we monitored a LAN as our packets traveled through OpenVPN's tunnel of love. We can confirm that they were absolutely unintelligible, even when we typed (nonexistent) passwords in the clear using Pop3 email clients and other unprotected programs.
The caveat is that if your client disconnects from the server for any reason, it will automatically resume normal use of the LAN, and if that happens (as it did, briefly, to us at Black Hat) anything you send in the clear is fair game to snoops. (Yonan, the OpenVPN creator, says he's working on an update that will alert users when the virtual connection is broken; until then, you'll just have to be vigilant.)
With the advent of OpenVPN, there's no longer a good excuse to connect to strange networks without the protection of a robust virtual private network. So go ahead and take the plunge. And if you run into trouble, leave a comment. We'll do what we can to help. ®
Sponsored: Are DLP and DTP still an issue?