Samsung tries to snatch 'world's first 200Hz TV' title from Sony
Sony and Samsung fight over who got there first
IFA Sony and Samsung are at war over which firm can rightfully claim to have demo'd the World's first 200Hz TV. Both showed off such sets at IFA this year.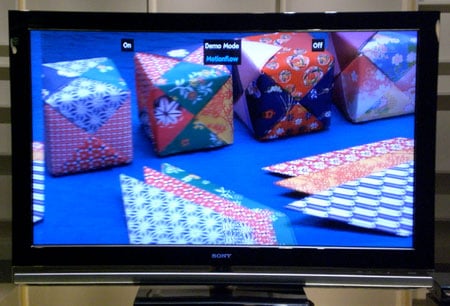 Sony's 200Hz telly came first, or did it?
Sony used its swanky press conference, billboards and even hundreds of notices placed in Berlin's railway carriages to announce what it said is the first ever telly featuring a 200Hz frame rate.
However, Samsung's IFA stand also features a TV headlined by the text: "World's first 200Hz LCD TV."
A Samsung representative told Register Hardware today that, as far as Samsung is concerned, its 200Hz telly is the World's first, not Sony's. So there.
But at the end of the day, who cares? What's important is which one would you, Joe Public, buy. Plenty of consumers favour Sony, many more prefer Samsung kit.
And it won't be long before all the other LCD TV makers have 200Hz sets out.
All of them will take a pair of standard HD frames and generate three more frames to sit between them, all to overcome the limitations of LCD technology when it comes to showing video that contains moving subjects.
For now, Samsung's staying pretty tight-lipped about its 200Hz TV technology for the time being. What we do know is that the set will be available as a 40, 46 or 52in model.
Samsung added that the three models will "probably" appear in the UK next year. And with Sony having promised to launch its 200HZ telly into Europe in time for Christmas, perhaps the two firms should really be fighting over who's going to be first to market?
IFA 2008 complete coverage
Sponsored: Minds Mastering Machines - Call for papers now open