Toshiba unveils SD-to-HD resolution revolution
Upscale everything
IFA Toshiba has launched the first TV that incorporates its own image upscaling system.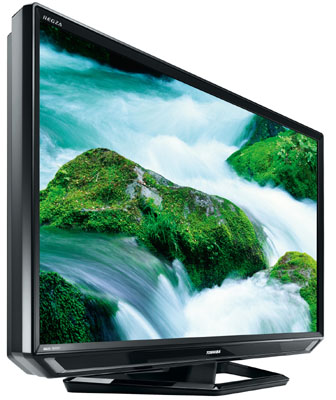 Toshiba's ZF set will upscale SD automatically
Dubbed Resolution Plus, the technology features in the firm's new Regza ZF series of screens and allows the 40in and 46in tellies to enhance the quality of standard definition content to "near HD quality".
The technology's designed to overcome what Toshiba calls "the lack of free-to-air HD content [currently] available".
The advantage is that whatever SD content you're watching, be it Hollyoaks or Star Trek, the image will be automatically upscaled to produce something that verges on HD quality, in much the same way that upscaling DVD players currently work.
Aside from Resolution Plus, the Regz ZF series offers 100Hz motion display and, of course, provides 1920 x 1080p full HD resolution. The contrast ratio is 30,000:1. It incorporates four HDMI ports.
Release dates and prices for Toshiba's Regz ZF range haven't been seen yet.
IFA 2008 complete coverage
COMMENTS
Resolution+ is not just an image upscaler
Judging from current information available, resolution+ from Toshiba seemt to be more like super resolution which calculates additional details based on differences between several images. According to research of the last few years, this can be used to increase resolution by a factor of 2 in each direction.
Best regards,
Mr. Wartung
Sigh
When will people realise, upscaling is not HD.
decode this message from SD to HD by guessing..
T g e f e g w h e a f g r b d d r
That's all your upscaler is doing...
Not really the first
All HD-ready TVs have an 'image upscaler', otherwise you'd see a tiny picture in the middle of the screen whenever you were watching an SD broadcast.