Philips unveils 38mm-thick HD TV
Essence of skinny?
IFA Measuring a super-slim 38mm at its thinnest point, the Essence HD LCD TV boasts a refresh rate of just 2ms and a full 1080p resolution.
It also offers three HDMI ports, a DLNA network streaming link, a, removable 2x 15W sound bar and sleek-looking remote control.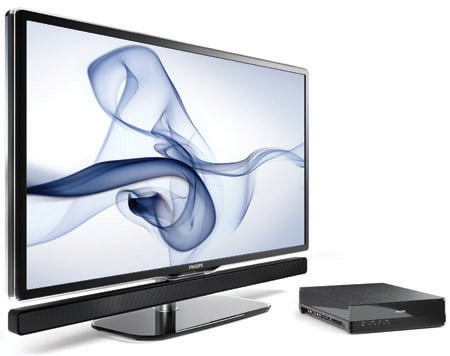 Philips' Essence: free of cable clutter
Along with the screen, the Essence - model number 42PES0001 - comes with a "connectivity hub" tuner box into which you connect all the source cables, including video, power and audio, and out of which just one cable extends up to to the display itself.
However, the TV's IR receiver it still located within the display housing, so the cable box can be tucked away out of sight.
Due to ship globally at the end of September, current pricing estimates put the Essence at around the €2500 ($3709/£2016) mark.
IFA 2008 complete coverage
COMMENTS
I don't get it.
Since it's got to sit on top of a TV stand that contains my centre speaker, cable box and DVD recorder, my current LCD is already thinner than I really need it to be. Do people wall-mount that frequently, then?
Extend the plastic outwards that protects the display a bit
And then you can claim it's 5mm thick! (At the thinnest point!)
slim?
"Measuring a super-slim 38mm at its thinnest point"
Nice use of Estate Agent measuring tactics, by giving the most attractive extreme of dimension only.
My pencil is roughly 0.5mm thick at its thinnest point (I haven't sharpened it today). However, it's over 10 x that thick at the arse end. Not exactly meaningful information when given out of context, is it?
Tell me what it measures at its thinnest point, thickest point, mean and median and you might get my attention.
~1 x Grumpy Old Man signing off.